Contador to race tours of France and Spain in 2011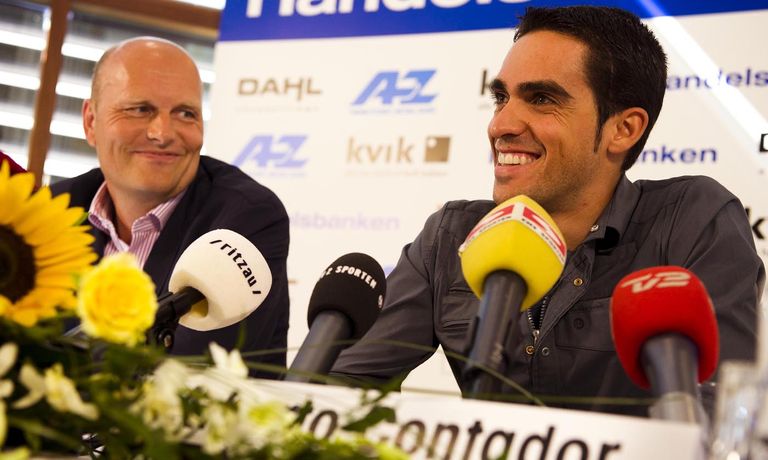 Alberto Contador (Astana) has said it is extremely likely that he will race both the Tour de France and the Vuelta a Espana in 2011.
The three-times Tour de France winner will therefore be riding two major tours in the same year for the first time since 2008, when he rode the Giro d'Italia and the Vuelta, winning both.
"If everything goes right, I'll do the Tour and the Vuelta," Contador told Spanish newspaper MARCA.
Contador's participation in the Vuelta would be a massive boost to his country's biggest race, already regaining so much popularity - largely thanks to a hotly-disputed fight for the overall classification - that its current television audience total in Spain is higher than for the Tour de France.
Asked why he hadn't raced the Tour of Spain in 2010, Contador said "people don't realise that when I do the Tour de France, my season's almost over."
"I never go to any race just for the pleasure of riding my bike, in fact I was up there right from the word go this year, in the Tour of the Algarve," - which Contador won.
"The Tour, normally, is my second peak of form in the year."
He brushed aside recent comments by the Schleck brothers that Andy could have won the Tour, saying "that's their opinion. But the only thing I can say is that I wasn't anywhere near as good as I was in 2009, for a number of reasons and that's something I can prove with data and how I felt."
Contador said he had yet to fully recover from a recent crash, and hoped he would be back to training in a couple of days time. And although he said he barely has time to watch the Vuelta, with upcoming trips to Las Vegas and Kazakhstan, his current favourite for the Tour of Spain 2010 is not a Spaniard.
"I'd like a home rider to win, but I think that [Vincenzo] Nibali (Liquigas) is the biggest favourite. He's young but he's already finished third in a Giro and seventh in a Tour."
Contador has signed for Bjarne Riis's Saxo Bank team for 2011.
Related links
Contador skips Worlds and ends season early
Riis welcomes Contador and Saxo Bank's continuation
'Tranquility' of Saxo Bank team important, says Contador
Alberto Contador: Rider Profile