COOKE POWERS TO GOLD IN WORLD CHAMPIONSHIPS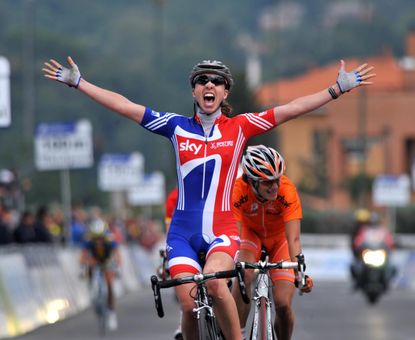 Women's road race photo gallery by Luc Claessen>>
Nicole Cooke has taken a spectacular victory in the World Championships. Part of a break of five, the Briton outsprinted Marianne Vos of Holland for gold after a hotly disputed finale. Germany's Judith Arndt's was third.
Cooke?s triumph comes just six weeks after winning the Olympic road-race, making the first woman in the history of cycling to take both titles in the same year. It is also Britain's first triumph in the road-race event - for either men or women - since Mandy Jones in Goodwood back in 1982.
Although Cooke's place in the history books of the sport is now set in stone, in many ways this was a collective victory: Great Britain fielded their strongest ever team for the women's road-race in a World Championships.
But it was Cooke who was the strongest rider in the race, playing a crafty waiting game until the final lap, and the race came together again.
After long early break containing Great Britain's Lizzie Armitstead was caught in the final lap, when - in a very similiar scenario to Beijing - a five rider move went clear containing Germany?s Trixi Worrack and Judith Arndt, Vos, Cooke and Sweden?s Emma Johansson.
Cooke sat in, waiting for her chance and keeping her cool, with the Germans making the most of their superiority in the lead group to try and break the move apart.
Worrack and Vos made one dangerous bid for freedom, which Cooke brought back, and then the Dutchwoman made an even bigger lone challenge on the main climb.
For a moment it briefly looked as if Vos?s move was the right one, but instead the Germans brought it all back together again.
With the line fast approaching and the tension mounting by the second, the attacks came thick and fast. Cooke made one big dig, Worrack and then Johansson blasted off again, and the Swedish woman went into the final chicane in the lead.
However, even that move failed to work out - after such a fast finish it was clear all five were tiring - and suddenly the pressure eased slightly.
Then Vos made one last desperate charge for the line, but Cooke was on her back wheel like a shot. Close to the finish, the Welshwoman charged past for a victory that rounds off a truly remarkable year for her - and British cycling.
Women?s Road-Race Results
1. Nicole Cooke (Great Britain) 138.8km in 3hr 42min 11sec
2. Marianne Vos (Holland)
3. Judith Arndt (Germany) all same time
4. Emma Johansson (Sweden) at 5sec
5. Trixi Worrack (Germany) at 11sec
6. Diana Ziliute (Lithuania) at 1min 47sec
7. Marta Vilajosana (Spain)
8. Joanne Kiesanowski (New Zealand)
9. Alex Wrubleski (Canada)
10. Julia Martisova (Russia)
British
28. Sharon Laws (GB) all same time
34. Emma Pooley (GB) at 1min 56sec
41. Elizabeth Armitstead (GB) at 5min 24sec
61. Jessica Allen (GB) at 6min 11sec
Double delight: Nicole Cooke wins the World Champs to add to her Olympic victory
Britain's new World Champion Nicole Cooke is flanked by Marianne Vos (l) and Judith Arndt (r)
Photos by Graham Watson
Swipe to scroll horizontally
ROAD WORLD CHAMPIONSHIPS 2008
NEWS
Cooke: "We wanted to do our best"
Bettini to retire after World Champs
GB gunning for medals in under-23 road race
Millar and Cummings disappointed with TT result
Thursday's World Champs news
Millar and Cummings ready for Elite men's time trial
World Champs men's time trial course notes
Pooley and Laws talk before Worlds time trial
Pooley to use special time trial bars again
British under-23 TT riders finish out of the top 30
Daniel Martin selected for Irish under-23 worlds team
British team heads to Varese with genuine medal hopes
Cancellara to miss World Championships
Swift a close second in final race before Worlds
Rob Hayles on why he's not riding the Worlds
GB Women's Worlds team confirmed
British Worlds team starts to take shape
Geraint Thomas called up to Worlds team to replace Cavendish
Mark Cavendish pulls out of Worlds team
RACE REPORTS
Men's road race: Ballan solos home for World Champs win
Women's road race: Cooke powers to gold
Under-23 men's road race: Colombian takes gold, Swift fourth
Men's time trial: Grabsch grabs the win
Women's time trial: America's Amber Neben takes title
Under-23 time trial: report, results, photos
PHOTOS
Under-23 men's road race, by Graham Watson
Men's time trial, by Luc Claessen
Women's time trial, by Graham Watson
2007 World Champs: Men's road race
2007 World Champs: Women's road race
2008 WORLD CHAMPS GUIDE
Preview>>
TV coverage guide>>
Brits in the men's world road race 1998-2007>>
Brits in the women's world road race 1998-2007>>
Brits in the under-23 world road race 1998-2007>>
Britain's road world championships medal winners>>
Thank you for reading 20 articles this month* Join now for unlimited access
Enjoy your first month for just £1 / $1 / €1
*Read 5 free articles per month without a subscription
Join now for unlimited access
Try first month for just £1 / $1 / €1