COOKE'S HISTORIC VICTORY IN GEELONG TOUR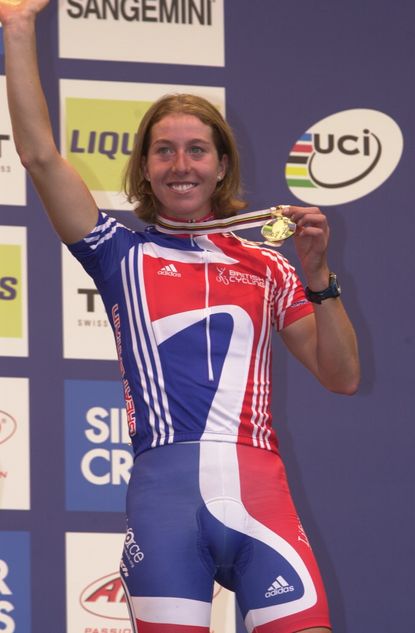 BRITAIN?S World number one Nicole Cooke, the World Cup champion, yesterday became the first non-Australian to win the season-opening Geelong Women?s Tour, the opening UCI race of the season.
Cooke also won points competition with a display of strength and confidence two days before she begins her defence of the UCI World Cup series at Geelong.
She took overall victory by 10 seconds from Germany?s Larissa Kleinmann of the German national team. T-Mobile showed strength in depth by filling the next three placings, with Germany?s Judith Arndt third at 23 seconds, double stage winner Ina-Yoko Teutenberg fourth at 26 seconds and Oenone Wood fifth at 28 seconds.
Although a stage win eluded her, Cooke, 23 showed superb form in the three-day, taking the overall lead after finishing third on stage two, and matching her opponents blow for blow in the intermediate sprints.
Backed by her Raleigh-Lifeforce team who smartly controlled the racing, Cooke was able to repulse the many attacks, principally from T-Mobile. On the final 80-kilometre stage at Barlow, plagued with strong crosswinds, which caused a crash that split the field, T-Mobile threw everything at Cooke.
Undaunted, Cooke deftly avoided the pile up and showed she meant business by taking third in the second intermediate sprint, second in the next behind overall challenger Kleinmann and winning the fourth.
In the final mass sprint, Cooke still had fuel in the tank and grabbed fourth place behind the stage winner USA?s Tina Pic (Colavita/Sutter Home) who beat Rochelle Gilmore (Australia) and Jenny Macpherson (Australia), second and third respectively.
T-Mobile?s Alexis Rhodes said they were trying to take the overall. She said T-Mobile was ?awesome? but they couldn?t shake Cooke. ?She?s a class rider,? said Rhodes.
Next best British finisher overall was Catherine Hare (Biggin & Scott), 35th at 2-8, with Tanja Slater (GBr), 37th at 2-11.
Asked how she wasfeeling after the race, Cooke said: "I'm delighted with the win, I started with a great first day and capitalised on my great TT ride and crit performance to take the overall lead.
"Then once we had the jersey in our team, the Raleigh Lifeforce Creation girls did an awesome job closing breaks and controlling the race. They were really
impressive on the final stage with lots of time bonus sprints on offer
and such small time margins. It was a great win which we can all share in."
Asked if the beefed up T-mobile squad give her any problems, she said: "They had a lot of fire power and Teutenberg was their key rider winning two stages, but they also showed their strength on the final day when the whole team
worked to split up the field in the windy conditions."
What can Cooke tell us about Saturday's World Cup?
"The course is run in reverse this year so it will be a different race as we will climb the hill from the more gradual, but longer side. I think our team has a lot of motivation after our Stage Race win and we hope to do a good job."
Thank you for reading 20 articles this month* Join now for unlimited access
Enjoy your first month for just £1 / $1 / €1
*Read 5 free articles per month without a subscription
Join now for unlimited access
Try first month for just £1 / $1 / €1