CRAWFORTH TAKES NATIONAL TITLE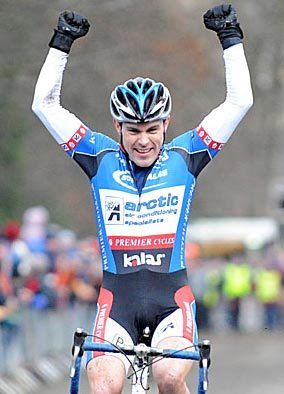 Crawforth wins the 2009 National title
Final podium (l-r): Roger Hammond (third), Jody Crawforth (winner), Paul Oldham (second)
Photos by Andy Jones
RELATED LINKS
National Cyclo-Cross Championships photo gallery>>
National Cyclo-Cross Championships 2009 day one report
National Cyclo-Cross Cahmpionships 2009 preview
National Cyclo-Cross Championships photo gallery>>
Arctic RT ace Jody Crawforth took victory in the National Cyclo-Cross Championships in West Yorkshire on Sunday after controlling the race virtually from the start
The in-form 28-year-old from Surrey was always near the front of the race, and after being left to establish a small lead he powered on to victory, crossing the line seven seconds ahead of Paul Oldham (Hope Factory Racing) with 2008 title winner Roger Hammond (Cervelo Test Team) settling for third, three seconds further back.
Fourth in 2008, Crawforth was pleased to step up to the podium, and delighted to make it to the top spot in a quality field and on a fast course which stood up well to the weekend.
After opening up a good gap over the final few laps Crawforth was pulled back by Oldham and Hammond, along with Oli Beckingsale (Giant), but after powering up the final hill and heading for the steps to the finish with a good lead, he continued his effort and held out for victory.
?I was surprised how much of a gap I got on the last climb up the hill,? he admitted. ?So I put the hammer down and went for it.
?This was a big target for me. It would be great to add the National Trophy series to it, but I?m going to need some luck to get that as well,? he added. Crawforth is second in the series, and needs Paul Oldham to have an off day in order to climb up from second in the final round next Sunday.
Earlier in the day, Vision One Racing had scored the predicted one-two with Helen Wyman crossing the line 50 seconds ahead of team-mate Gabriella Day, while Science in Sport.com?s Suzanne Clarke was third, 2-25 behind Wyman.
And Yorkshireman Tom Moses (SSC Cyclesport) put his local knowledge to good use with victory in the junior race, while Cwmcarn Paragon RC?s Dan Harrison was second, 25 seconds behind, and Univega?s Dan McLay was another 21 seconds back in third.
See this week?s Cycling Weekly for more on the Championship.
National Cyclo-Cross Championship (Peel Park, Bradford).-
1 Jody Crawforth (Arctic RT) 1-02-43
2 P. Oldham (Hope Factory Racing) at 7sec
3 R. Hammond (Cervelo Test Team) at 10sec
4 O. Beckingsale (Giant) at 27sec
5 R. Jebb (Wheelbase) at 1-05
6 I. Bibby (Science in Sport) at 1-22
Women.-
1 Helen Wyman (Vision One Racing) 39-46
2 G. Day (Vision One Racing) at 50sec
3 S. Clarke (Science in Sport.com) at 2-25
Juniors.-
1 Tom Moses (SSC Cyclesport) 43-11
2 D. Harrison (Cwmcarn Paragon RC) at 25sec
3 D. McLay (Univega) at 46sec
Jody Crawforth on the front