CW '07 READER POLL: VOTE NOW!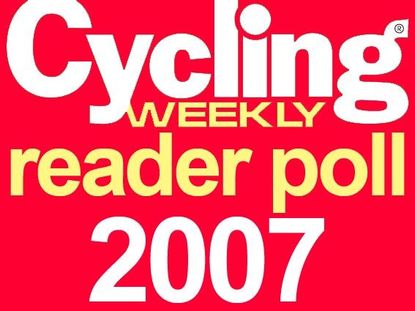 Have you voted in this year's Cycling Weekly reader poll?
We're looking for your opinion on your favourite riders, events, products, villain of 2007 and much more.
Full results will be published in our super-size December 20 issue of Cycling Weekly.
Click here to go to the 2007 reader poll.
Everyone who votes will automatically be entered into a draw to win a DVD of The Flying Scotsman, the film of Graeme Obree's life, and a copy of the Obree book of the same title.
This year's categories are:
RIDER CATEGORY
Most impressive rider (overall)
Most impressive road rider
Most impressive time trial rider
Most impressive track rider
Most impressive newcomer
Most impressive team
RACE CATEGORY
Most exciting road race (overall)
Most exciting stage race
Most exciting one-day race
Most exciting time trial
Most exciting track event
TECH CATEGORY
Best new bike
Best new component
Best new innovation
MISC CATEGORY
Most noteworthy cycling achievement
Most attractive team kit
Best CW cover/story
Villain of the year
Thank you for reading 20 articles this month* Join now for unlimited access
Enjoy your first month for just £1 / $1 / €1
*Read 5 free articles per month without a subscription
Join now for unlimited access
Try first month for just £1 / $1 / €1