Cycling is more exciting to watch than golf and snooker, but more boring than football and athletics, finds survey
YouGov poll puts cycling mid-table in the league of most boring sports, less boring than golf but more boring than football, tennis and athletics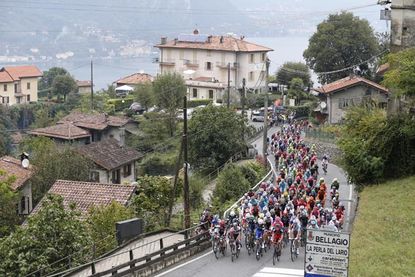 (Image credit: Yuzuru Sunada)
Results of a survey into the most boring sports to watch on television show that cycling is more boring than football, tennis and athletics but less boring than golf, darts and snooker.
The survey – carried out by YouGov in November 2017 – polled members of the British public on 17 sports, asking them whether they found each one boring, exciting or neither one or the other.
Of those 17 sports, those polled found that 12 of them were more boring than exciting – which doesn't paint many sports in a particularly good light.
Fifty per cent of respondents said that they found cycling boring or very boring, with 25 per cent saying that it is 'very or quite exciting'. Perhaps they weren't thrilled at last year's start-to-finish coverage of every stage of the Tour de France?
http://www.youtube.com/watch?v=OQVwaVGJgzI
Perhaps suprisingly, football was not voted the least boring sport – that accolade goes to athletics, where 47 per cent said that is was exciting, and only 28 per cent said it was boring.
Football divided opion, with an equal split between those finding in boring and exciting, and 14 per cent saying it was neither one or the other.
The most boring sport was golf, with 70 per cent of survey respondents saying they found it boring and only 11 classing it as an exciting watch on TV.
>>> 10 ways to tell you're watching too much Tour de France on television
American football, cricket, darts, snooker, basketball and horse racing were are ranked as more boring than cycling.
Formula 1, boxing, rugby league, swimming, rugby union, gymnastics and tennis joined athletics and football as being more interesting to watch on TV than cycling.
Thank you for reading 5 articles this month* Join now for unlimited access
Enjoy your first month for just £1 / $1 / €1
*Read 5 free articles per month without a subscription
Join now for unlimited access
Try first month for just £1 / $1 / €1