10 ways to tell you're watching too much Tour de France on television
If there is such a thing as watching too much cycling on television, how can you tell?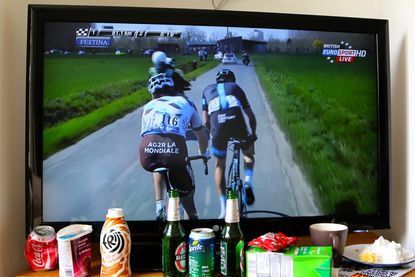 Watching bike racing on television takes a very special kind of commitment. Twenty one stages of the Tour de France, with at least four hours apiece, means that you have an enviable power of concentration and sense of loyalty to follow every second of the action. And possibly no job to go to.
That amount of commitment can, however, sometimes mean your everyday life gets tainted by your fanatical viewing of professional cycling on the small screen. Reluctantly, we admit that there may be a point where you can watch too much cycling on television.
How can you tell?
1. Extensive knowledge of European abbeys, churches, castles and châteaux
Your knowledge of ancient European architecture is, frankly, second to none. As the telly shows you sweeping, majestic aerial shots of the very finest French fortifications, stately homes and places of worship as the peloton rushes past you take it all in, soaking it up like a sponge. Pro cycling has the best backdrop of any sport, it's just beautiful. Shame you forgot to put the bins out last night.
2. Flicking the elbow
When professional cyclists want the rider behind to come through and take a turn, they'll flick their elbow up slightly to get them to share the burden. As you were riding with your friends into a headwind up the B5467 you flicked the elbow, only to look back and find someone shouting 'is your arm all right, mate' back at you. Do not flick the elbow in the queue in Morrisons either, because you really don't want anyone to get in front of you.
>>> 13 things your friends don't understand about cycling
3. You can name who was in the break on stage three of the 2012 Tour
Your cycling knowledge knows no bounds. You can reel off the composition of every doomed, pointless escape group in every edition of the Tour. Stage three break in the 2012 edition of the race? It was Andriy Grivko (Astana), Michael Morkov (Saxo Bank), Giovanni Bernaudeau (Europcar), Ruben Moreno (Euskaltel) and Sebastien Minard (Ag2r). But you knew that.
4. Garden is out of control
A worrying lack of post and the fact your children left for school on Monday, and have failed to return even though it's Thursday probably means that your front garden resembles the impassable mass of thorny bushes last seen in Sleeping Beauty. You would go out there and mow the lawn, but when the cycling coverage finished you just had to wait for confirmation of the full general classification. And then, of course, you had to go out for a bike ride. The garden can wait.
5. Living off the contents of your cupboard and freezer
Your garden, friends and family may have been lacking your attention of late, but that's nothing compared to the state of your food cupboard. You have become a master of concocting dinners from dry goods and the contents of your freezer. The dwindling supply of food is in direct correlation to the increasing amount of washing up accumulating next to the sink.
6. Bus stop Feed zone
When you finally did manage to leave the house, you rode past the local bus stop and inadvertently tried to take a shopping bag from someone in the queue thinking they were handing you up a musette at the Feed Zone. Unfortunately, that is classed as theft. Unless they had a tight grip on the bag, in which case it's classed as crashing in front of a queue of people at a bus stop.
>>> The five best bike throws
7. You know what Carlton Kirby had for dinner last night
Though you personally may have had a delightful serving of Shreddies, tinned tuna, marmalade and a Fab lolly after watching the evening highlights of the Tour, you know full well that Eurosport commentator Carlton Kirby dined at a charming restaurant last night, and that he thoroughly enjoyed his dessert.
8. Get the paint out
You've found yourself tempted to buy a large pot of white paint and a roller to daub GO CAV in massive letters on the road outside your house. You do not, however, have the time to paint any surfaces inside your house. Nor will you consider it. DIY can wait until the Tour has finished.
9. TV recorder is full
Although you watch every moment of cycling on the television, that hasn't stopped you programming your TV recorder to capture each and every bike racing broadcast. Given the length of cycling coverage, that means that your 500GB hard drive filled up very quickly. Luckily, your partner really won't miss those episodes of Downton Abbey they've been saving for when you eventually move away from the television, so get rid of them first. Problem solved, for now.
10. Reciting Euro TV adverts
https://www.youtube.com/watch?v=a5320yLK2us
"The new cooktop extractor, effective and silent". If you know what that refers to, well, we rest our case...
Thank you for reading 20 articles this month* Join now for unlimited access
Enjoy your first month for just £1 / $1 / €1
*Read 5 free articles per month without a subscription
Join now for unlimited access
Try first month for just £1 / $1 / €1