13 things your friends don't understand about cycling
They think the offside rule is complicated, but it really, really isn't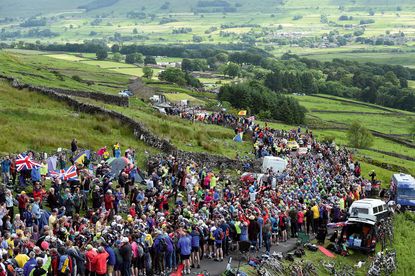 (Image credit: Andy Jones)
It's too much to ask for all your friends to be cyclists. We all need a mix of acquaintances who can ask silly questions, completely miss the point and not understand what you're going through when André Greipel beats Mark Cavendish yet again.
This is what you know, and they don't. At least until you make them read it.
The Tour de France isn't always in France
That's right — last year's Tour kicked off in the Netherlands. The year before it was Yorkshire. It has been to Spain, Italy, Belgium, Germany, Switzerland, Luxembourg, Ireland and Monaco, and has got a visit to Germany booked in.
There was even talk it might go to Thailand, though that turned out to be a bit of a porky pie. But so what? It's the Tour de France, it can do what it likes. If the baseball championship can be called the World Series, the Tour can go to Hebden flipping Bridge.
It's not just the Tour that goes wandering either; the Giro d'Italia spent three days in the Netherlands, welcomed by huge crowds.
Eurosport is a law unto itself
To the naked eye, Eurosport appears to be a broadcast organisation like any other. Adverts. Live sport coverage. There's even HD. But that's before you actually try to watch it.
Eurosport publishes a schedule, which is nice. But when you fire it up to watch, say, the final kilometres of the Tour of Qatar, you instead get ski jumping. Which was meant to finish ages ago. There is no mention that this is untoward, no acknowledgement, not even an apologetic caption hastily typed out by a Parisian intern who is perhaps the only person paying attention to what is actually being broadcast.
There is just a succession of blonde Scandinavian men flying through the air, risking their lives in a way that is nevertheless quite boring, and the Tour of Qatar is presumably nearing its conclusion, and it is definitely not on the screen. You flick to Eurosport 2, which is showing snooker. You flick again. Scandinavian men, now in HD.
And then, abruptly, cyclists appear in the Tour of Qatar. The race hasn't finished yet! Eurosport knew what it was doing. Eurosport knows.
It has come through at the last minute, and we are all happy — the cycling fans, the ski jumping fan wherever he/she is — and we are left to contemplate the wonderful truth: cycling is the only sport where it isn't just exciting to watch, it's elating that you have actually managed to find it before the race ends.
Mark Cavendish has never won the Tour de France
One reason never to watch cycling with your friends is because they say things like, "If he's so fast, why isn't he riding at the same speed as everyone else?"
Nor has Chris Hoy
They give out knighthoods for anything these days, don't they?
The best riders hardly ever race each other
In February last year, Geraint Thomas won the Volta ao Algarve. Which, make no mistake, was a fantastic achievement and one he bettered with victory at the 2016 Paris-Nice.
But it did lead to the following conversation: "He won, eh? Wow. So he's better than Chris Froome now?" "No, Froome was in the Ruta del Sol racing against Contador." "Oh. What about Wiggo?" "Er… feet up, listening to Small Faces' B-sides, I think." "That bloke who won the Tour de France?" "He was in the Tour of Oman." "I give up."
It is weird. It's a bit like Manchester United spending most of the time playing in the local pub league, Chelsea organising a kickabout in the park with West Ham every other weekend when they don't have to look after the kids, and Liverpool not playing anyone at all until May because they don't want to peak too soon.
The plus side, of course, is that when they do all come together, it's an epic battle that's all the tastier for its rarity. This was proven in spectacular fashion by the enthralling scrap between Froome and Nairo Quintana at the 2016 Vuelta a España.
They ride a bike up this...
…and then sometimes they do it again. On the same day.
Almost every breakaway is completely pointless
There can be something quite formulaic about most stages of most races. For the first few kilometres the riders trundle along, letting the morning's fry-up settle, discussing whether the contestants on The Apprentice are sociopathic or just idiotic, and they double-check that this definitely isn't one of those days where they have to go up Alpe d'Huez twice. It's the club ride in fast-forward, but no one is sweating or being sick.
Then a group of riders, usually involving Thomas Voeckler, launches The Break. Breaks rarely succeed so this is guaranteed to be a pointless endeavour. Though they do seem to be building up a really big lead. But even so, these things hardly ever succeed.
Other fans might get excited about how solid the riders look in the break, how well they're working together, the lack of fight in the peloton, but not seasoned watchers like us.
>>> Peter Sagan wins Eneco Tour stage three as breakaway throws away chance to triumph
It's quite unusual for breaks to last all day and win the stage. Though it's near the end now. And they're still leading. And looking strong. And they're going to do it. They're actually going to do it! The pain is all over Voeckler's face after an entire day in the blistering sun but my god it was worth it.
Too little too late from the peloton and that was a classic, absolutely bril- oh wait. They've been caught. And now they've been dropped. A sprinter won again. What a total waste of time.
Same again tomorrow, Thomas?
The riders are basically indestructible
"Yeah, so the group I was in was hit by a car and I cartwheeled into some barbed wire at 60km/h. I couldn't breathe very well and there was blood everywhere. My legs were totally lacerated. So I got up, changed my shorts and finished the stage. I mean, there was only 36km to go anyway."
It's the kind of crazy, inhuman bravery we see in sport on a daily basis. It's like that time when Wayne Rooney felt a bit of tightness in his groin and played on anyway for five minutes in case he could run it off. Which actually never happened, but the principle stands.
Fans do this
Which is absolutely fine.
There's a top-level team named after a hair loss treatment
Football thinks it knows all about sponsorship, specialising in calculator-breakingly lucrative tie-ups with a sociopathic slash-and-burn troika of gigantic banks, online casinos and payday loan companies. And certainly that's one way of doing things. But it's not the only way, as cycling amply proves.
Does Quick Step sell more floor tiles when Marcel Kittel wins a race? Has there been a run on Alpecin hair-restorer since it joined up with Giant? Do the Colombians, Spaniards, Brits, Slovakians and Russians watching the WorldTour now play the Dutch Lotto?
The answer is yes, yes and yes. Sponsoring a pro team is a licence to print money, and only a fool would say otherwise.
It isn't all about doping
OK, riders doped. And they still do (sometimes with motors). But can non-cycling fans please get off their high horses? Horses have been doped up for as long as cyclists.
Seriously, there are a lot of people in glass houses who shouldn't be chucking stones. The World Series was fixed. Rugby players pretended to be bleeding when they weren't. Test matches were fixed. Every single football match from Hackney Marshes to the Maracana is blighted by people feigning injuries, swearing at referees and trying to con them at every opportunity.
There is a simple, often forgotten fact, which is that when you catch a drugs cheat, you make your sport cleaner.
Other sports should just thank their lucky stars that despite the pressures on players to perform, the hugely sophisticated sports science and the potential performance benefits of banned substances, all of those individuals have the strong moral fibre to never, ever stray from the path of righteousness.
Because that's the only possible explanation for the absence of positive drugs tests in those sports, right?
Cycling is always teetering on the edge of shambles...
…but it's still the best thing ever
What did we miss? Let us know in the comments below.
Thank you for reading 20 articles this month* Join now for unlimited access
Enjoy your first month for just £1 / $1 / €1
*Read 5 free articles per month without a subscription
Join now for unlimited access
Try first month for just £1 / $1 / €1