Another Astana rider fails doping test
Continental Team Astana rider Victor Okishev fails test for anabolic androgenic steroids in May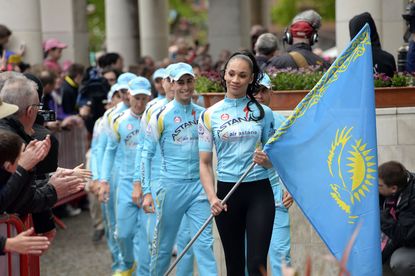 (Image credit: watson)
The integrity of the Astana team has been brought into question again after the Union Cycliste Internationale (UCI) announced on Wednesday that Continental Team Astana rider Victor Okishev failed a test for anabolic androgenic steroids in May.
According to the UCI, Okishev failed the test from a sample taken during the Asian Cycling Championships on May 29. The 20 year old from Kazakhstan has been provisionally suspended from competition as a result of the positive, and has the right to request that his B sample be tested.
It's the latest doping test failure for Astana, which has already seen a string of riders suspended for failed tests in 2014. In October, the sport's governing body, the Union Cycliste Internationale (UCI), said it was reviewing Astana's WorldTour licence in light of the failed tests and said the squad was in a 'serious situation'.
Brothers Maxim and Valentin Iglinskiy, who rode for Astana's WorldTour squad, both failed tests for banned blood booster EPO. Valentin at the Eneco Tour on August 11 and Maxim on August 1. Maxim was part of Astana's Tour de France line-up that saw the team's Vincenzo Nibali take the overall victory.
In October, the UCI announced that llya Davidenok, of Continental Team Astana, had failed a test for anabolic androgenic steroids at the Tour de l'Avenir in August.
Current Astana Team manager Alexandre Vinokourov was suspended during his riding career for failing a test for blood transfusion during the 2007 Tour de France, and is currently under investigation for alleged race fixing and bribery.
Though Astana has said it wants to reaffirm its 'absolute zero-tolerance policy towards all incidents of doping and unethical activity', the positive test results keep coming. The team is a voluntary member of the Movement for Credible Cycling (MPCC), which has stricter anti-doping rules than the UCI.
More on Astana
Credit: Andy Jones
A quick guide to an uneasy ride in the pro peloton
Thank you for reading 20 articles this month* Join now for unlimited access
Enjoy your first month for just £1 / $1 / €1
*Read 5 free articles per month without a subscription
Join now for unlimited access
Try first month for just £1 / $1 / €1