Alexandre Vinokourov and Alexandr Kolobnev formally accused over Liege-Bastogne-Liege bribe
Judge in Liege indicted Alexandre Vinokourov and Alexandr Kolobnev in May over alleged payment to secure 2010 Liege-Bastogne-Liege race win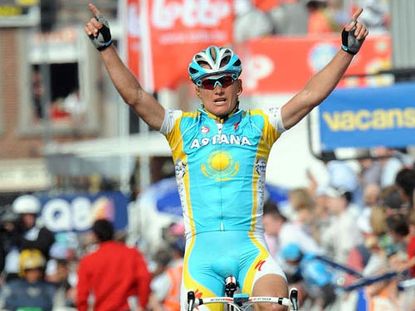 Alexandre Vinokourov and Alexandr Kolobnev were formally accused in May for corruption after Vinokourov allegedly paid Kolobnev for the 2010 Liege-Bastogne-Liege race win.
According to a report on website Sudinfo.be, Vinokourov (riding for Astana) paid Russian pro Kolobnev (riding for Katusha) a total of €150,000 to secure the 2010 Liege victory. Liege judge Philippe Richard indicted both parties with a charge of private corruption in May, but the information has only just come to light. The case may take months to be resolved.
Allegations that Vinokourov bought the Ardennes Classic win first surfaced in December 2011, but both parties have always denied it.
Apparently two payments were made by Vinokourov to Kolobnev, of €100,000 and €50,000. An amount of €150,000 was subsequently deposited in Vinokourov's account by the Kazakhstan Cycling Federation, allegedly a prize for being the 'best Kazakh rider of 2010'.
Vinokourov retired from professional cycling after winning the London 2012 Olympic Games road race at the end of a chequered career that saw him banned in 2007 for failing an anti-doping test for blood doping at the Tour de France that year. He returned to racing in 2009. He is currently general manager for the Astana team.
Kolobnev has a current contract with Katusha. He failed a test for a banned diuretic at the 2011 Tour de France but was subsequently cleared after taking his case to the Court of Arbitration for Sport in March 2012.
The result of an investigation by the sport's governing body, the Union Cycliste Internationale (UCI) into the bribery allegation is still pending.
Union Cycliste Internationale reacts to new evidence that suggests Alexandre Vinokourov 'bought' the 2010 Liege-Bastogne-Liege win
New evidence emerges that Alexandre Vinokourov bought the 2010 Liege-Bastogne-Liege race win
International cycling news round-up (Dec 8): Vino bribe latest; GreenEdge and Subaru; Tour 2013 in Corsica; Merckx honoured by France
Swiss newspaper alleges that Alexandre Vinokourov paid Alexandr Kolobnev for 2010 Liege win
Court of Arbitration for Sport reaches verdict on Alexandr Kolobnev's positive test at 2011 Tour de France
Thank you for reading 20 articles this month* Join now for unlimited access
Enjoy your first month for just £1 / $1 / €1
*Read 5 free articles per month without a subscription
Join now for unlimited access
Try first month for just £1 / $1 / €1