Vinokourov fights Liege-Bastogne-Liege bribe allegations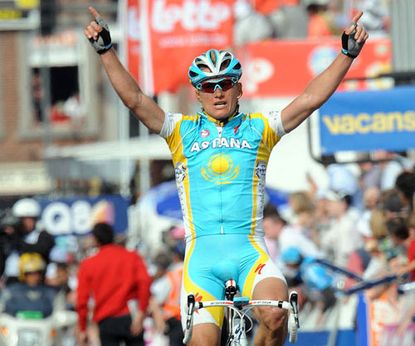 Alexandre Vinokourov plans to fight off allegations that he bought his Liège-Bastogne-Liège win last year in Belgium. A Swiss newspaper published an article yesterday alleging the Kazakh cyclist paid €100,000 (£85,892) to Alexandr Kolobnev to ease off in the finale of the Ardennes Classic.
"I can't accept that gossiping about me," Vinokourov said in a press statement issued today by his Astana team. "My lawyers will also prosecute anyone who infringes on my integrity."
Team Astana, which Vinokourov started in 2006, plans to wait before taking any action.
"We need to wait for the truth to come out, see who says what and go forward," team manager, Giuseppe Martinelli told Cycling Weekly. "There is too much going around the internet now, it's very dangerous and we need to wait."
Martinelli said that it is a "huge sum" of money being report and that Vinokourov never said anything about a payment. They are at a team camp in Calpe, Spain, from December 1 to Saturday, December 10.
Vinokourov already sent out a warning shot two days ago from Calpe, threatening L'Illustré journalist Arnaud Bédat, calling his work "gutter press" and saying that his e-mail account had been hacked.
L'Illustré is a French-speaking newspaper based in Lausanne and has a circulation of 90,000. It published an article yesterday titled Le Prix de la Victoire ("The Price of Victory") that contained several e-mails written in Russian between the two cyclists starting the day after the race. On April 25, Vinokourov safely rode clear with Kolobnev after the Roche aux Faucons climb and left his rival behind with one kilometre to race, on the climb to Ans. The next day, the e-mails started according to the newspaper.
Kolobnev on April 26: "Remember that for me it was a great chance. I do not know if I was right to do what I did. Not so much because of our agreement, but mostly because of my feelings towards you and towards your situation. Even my wife was not too bothered by the fact that I was second, because you were the first. If it had been someone else in your place there, I would have gone for the win, glory and bonus (I have this in my contract for the classics). That day I felt stronger than ever.
"Now it only remains for me to wait patiently to see if all this was not vain. Here is a copy of all my bank details; clear this from your mail box or I risk having my balls cut off. [Bank details allegedly follow]: Let me know, I'll check the operation and that everything went well. Good luck in the Giro!"
Vinokourov was caught blood doping at the 2007 Tour de France. He served a suspension and returned. Liège-Bastogne-Liège and a Tour stage win were his biggest comeback wins, but he plans to push for more next year, racing to the London Olympics.
Vinokourov replies on May 8: "Excuse me for having a long delay in answering you, I was busy at home with the children, the Giro, etc... You have done everything properly, do not worry. As you say, the earth is round and God sees everything... So, again thank you. You will finally win the championship this year, I believe. Do not worry for the agreement, I will do it. Wait just a little. Take care. Vino."
L'Illustré reports that the money was sent from bank BNP Monaco to BSI Locarno.
The newspaper contacted Vinokourov, Kolobnev and the Union Cycliste Internationale (UCI) for the article. It said Kolobnev did not respond. Vinokourov said, "There was no cheating. ... I won because I was the fastest." Regarding the payment, he said, "I often make payments left and right, sometimes I lend money, but I never offered to buy the win from Kolobnev."
UCI president, Pat McQuaid told the newspaper, "There are rules for that. It is clear, if there is evidence, there could be penalties."
Kolobnev is currently waiting on the Court of Arbitration for Sport (CAS) to hear a case between the UCI and the Russian federation. His federation let him off relatively lightly (fine of £1,063 or 1500CHF, and a warning) for failing a drug test for hydrochlorothiazide, a prohibited diuretic, at Tour de France this year. As with L'Illustré, CAS also bases itself in Lausanne.
Vinokourov said in his e-mail today that the article could be politically motivated, appearing ahead of his countries elections. He did not respond to questions from Cycling Weekly for this article.
Related links
UCI appeals Kolobnev's Tour de France dope case to CAS
Thank you for reading 20 articles this month* Join now for unlimited access
Enjoy your first month for just £1 / $1 / €1
*Read 5 free articles per month without a subscription
Join now for unlimited access
Try first month for just £1 / $1 / €1