Fresh evidence of Vinokourov Liege bribe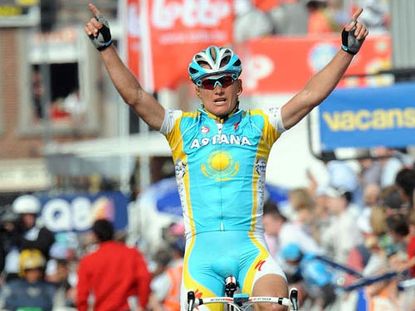 Olympic road race champion Alexandre Vinokourov faces fresh sporting fraud claims that he bought the 2010 Liège-Bastogne-Liège win. The proof surfaced as part the ongoing Padua investigation of Michele Ferrari and in the last week the evidence was sent to the Union Cycliste Internationale (UCI) and Belgian public prosecutor.
Italy's Corriere della Sera newspaper shed new light on the allegations that first surfaced in December last year. Then, Swiss newspaper L'Illustré showed that Vinokourov allegedly paid €150,000 [£120,000] in two separate bank transfers in 2010. It was not until in recent months, however, that Padua public prosecutor Benedetto Roberti uncovered evidence of transfers as part of the Ferrari doping ring valued around £24m.
Roberti sent his files to the UCI and public prosecutor in Liège, according to the Corriere della Sera. In a document attached, he wrote, "The office has collected irrefutable evidence. Vinokourov promised and transferred Kolobnev €150,000 to secure the win, enabling a different result than one from proper and fair competition."
His evidence may re-write the ending to Vinokourov's professional career. He retired this summer after winning the London Olympic road race. The Kazakh had fought back after serving a doping ban for transfusing blood at the 2007 Tour de France.
Lance Armstrong also felt the weight of Roberti's investigation. Roberti helped the US Anti-Doping Agency (USADA) prove around £623,000 in bank transfers from the American to Ferrari in his Tour winning years. The agency stripped Armstrong of his seven titles, which was approved last month by the UCI. The governing body and Liège prosecutor will now examine claims the Olympic champion cheated his way to win Liège.
The UCI already responded this January to L'Illustré's claims, saying the newspaper would not reveal its source and it was unable to do anything without evidence.
The French-speaking newspaper, based in Lausanne, printed on December 6 e-mails it recovered between Vinokourov and runner-up, Alexandr Kolobnev about the race. Vinokourov rode clear with Kolobnev after the Roche aux Faucons climb on April 25. On the climb to Ans, with one kilometre to race, he dropped his rival. The next day, the e-mails started.
Kolobnev on April 26: "Remember that for me it was a great chance. I do not know if I was right to do what I did. Not so much because of our agreement, but mostly because of my feelings towards you and towards your situation. Even my wife was not too bothered by the fact that I was second, because you were the first. If it had been someone else in your place there, I would have gone for the win, glory and bonus (I have this in my contract for the classics). That day I felt stronger than ever.
"Now it only remains for me to wait patiently to see if all this was not vain. Here is a copy of all my bank details; clear this from your mail box or I risk having my balls cut off. [BSI Locarno bank details follow. - ed.]: Let me know, I'll check the operation and that everything went well. Good luck in the Giro!"
Vinokourov replies on May 8: "Excuse me for having a long delay in answering you, I was busy at home with the children, the Giro, etc... You have done everything properly, do not worry. As you say, the earth is round and God sees everything... So, again thank you. You will finally win the championship this year, I believe. Do not worry for the agreement, I will do it. Wait just a little. Take care. Vino."
It took Roberti to add weight to these e-mails. According to Corriere della Sera, he was able to show the BSI Locarno account belonged to Kolobnev and was opened by BSI's Edoardo Conceprio. As part of the Ferrari System, he already found Conceprio helped athletes launder money. The Swiss prosecutor in Neuchâtel obtained all the payments to Kolobnev's account. Besides €41,000 monthly from team Katusha, two payments via Monaco's Credit Foncier - Vinokourov's bank - stood out: €100,000 on July 12 and €50,000 on December 28, 2010.
Vinokourov brought in Astana as sponsor of his team in 2006 and after retirement, decided to take over as General Manager. Besides facing fraud charges in Belgium, he may take down Astana. The UCI is deciding this month which teams will receive its 18 first division, WorldTour licences. Astana met the sporting criterion, but must now pass the financial, administrative and, above all, ethical rounds.
Even with licence valid through 2013, the UCI may respond to the newest claims that to allegations that Vinokourov, Roman Kreuziger, Enrico Gasparotto and the entire Astana team worked with Ferrari.
Related links
7 December 2011: Vinokourov fights Liege bribe allegations
UCI acts in Vinokourov bribe allegations
Thank you for reading 20 articles this month* Join now for unlimited access
Enjoy your first month for just £1 / $1 / €1
*Read 5 free articles per month without a subscription
Join now for unlimited access
Try first month for just £1 / $1 / €1