Vincenzo Nibali in "rage" after Astana doping revelations
Tour de France 2014 winner says that his first reaction to finding out about his Astana teammates' positive tests was "rage"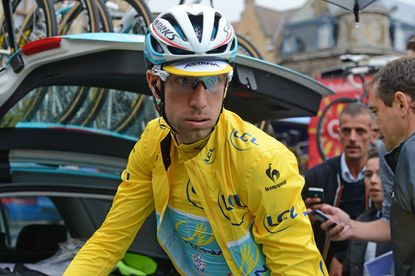 (Image credit: Andy Jones)
Tour de France champion Vincenzo Nibali reacted to the recent doping cases in his Astana team by saying they are "ugly" but "isolated."
In the last two months, three Kazakh cyclists, brothers Maxim and Valentin Iglinskiy, and Ilya Davidenok tested positive for banned drugs.
"The first reaction when learning of this is rage," the Italian said at 2015 Tour presentation yesterday, according to France's Le Monde newspaper.
"You say; 'But damn, how is it possible that something like this is still happening today?' You really have to be stupid" said Nibali.
"This is an isolated case. We're speaking of two brothers, it happens in families, outside of the team. It's ugly because the entire team must pay the consequences, even if it has nothing to do with this story."
Davidenok failed an anti-doping test for steroids, but raced for Astana's continental, third division team. The Iglinskiys both failed tests for EPO while racing for the Kazakhstany WorldTour team.
Maxim Iglinskiy played a key role to help Nibali win the Tour this July and previously won the 2012 Liège-Bastogne-Liège classic by catching and passing Nibali, who was then with team Liquigas, in the final 1.3 kilometres.
Cycling's governing body, the UCI last week called the doping scandal "an extremely serious situation" that reflects poorly on the team and its management. It asked the licence commission to review Astana's WorldTour status. The team will have to explain itself in the coming month based on the commission's ethical criterion.
The commission withheld Katusha's licences for similar problems in 2012, though the Court of Arbitration for Sport (CAS) later ruled it could not do so and allowed the team to race in the top tier for 2013.
Tour de France organiser ASO took things in to their own hands in 2008 by barring Astana from participating in its race because of doping problems in the previous year.
"There will probably be sanctions, but I think it is the concerned riders that should pay, not us, because they are the ones who did it, not us," Nibali continued.
"It would need to be a big ban. Apparently two-year suspensions are no longer sufficient."
Nibali explained that followers should not consider his Tour de France victory ride suspicious.
"I answered every [doping] question, I never avoided the subject. I have always been transparent and available on these questions, even when I was at team Liquigas," Nibali added.
"Things have changed thanks to the anti-doping agencies, it's a good thing that they do more and more controls."
Kazakh rider Valentin Iglinskiy failed test for EPO at Eneco Tour and admits to using the banned blood booster
Astana says it wants to reaffirm its 'absolute zero-tolerance policy towards all incidents of doping and unethical activity' in wake
Thank you for reading 20 articles this month* Join now for unlimited access
Enjoy your first month for just £1 / $1 / €1
*Read 5 free articles per month without a subscription
Join now for unlimited access
Try first month for just £1 / $1 / €1