CYCLING TIME TRIALS HONOURS CHAMPIONS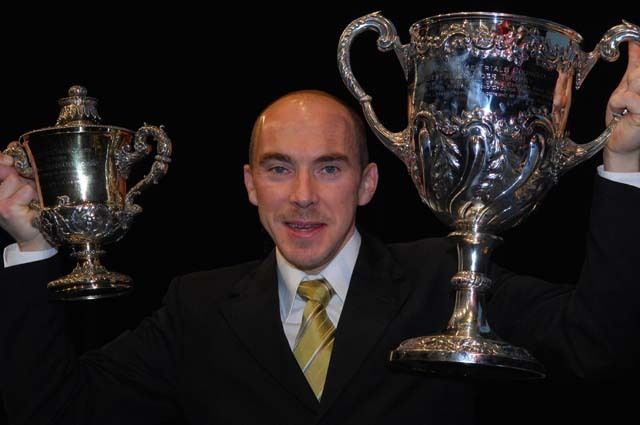 Cycling Time Trials' annual celebration of the sport's champions took place at the weekend in Nottingham.
All of the winners of last year's various time trial series and championships assembled at the East Midlands Conference Centre to officially received their silverware at the gala Champion's Night.
Kevin Dawson and Julia Shaw each collected their respective trophies for being 2007's British Best All-Rounders. Shaw also received an award for being 2007's women's Champion of Champions, with the men's award going to Michael Hutchinson.
One rider sadly missing from the proceedings was Peter Bissell. Bissell collapsed whilst out with friends in his hometown of Stevenage shortly after Christmas and later died in hospital. His father attended and collected his son's medal for being part of the winning Arctic-Shorter Rochford RT team in the 2007 Hill-Climb National Championships. Bissell's funeral takes place this Monday.
CTT champions line up. Photos by Andy Jones
Kevin Dawson and Julia Shaw, British Best All-Rounders 2007
CTT Champions Night 2008
You can view a full gallery of photos from the CTT Champion's Night in our gallery section>>
2007 CYCLING TIME TRIAL CHAMPIONS
Hannah Barnes - GHS 10 miles, girls
Simon Baxter - TT series, Espoirs
Ian Dalton - TT series, men on actual
Kevin Dawson - BBAR
Eamonn Deane - 24 hour, men
James Dobbin - National Hill Climb Champion
Andrew Griffiths - Junior Champion of Champions
Michael Hutchinson - Men's Champion of Champions
Richard Meadows - BBAR, Junior
Laura Oliver - BBAR, junior
Team Plowman Craven Evans - Team Time Trial
Joseph Perrett - GHS 10 miles, boys
Adam Pinder - National Hill Climb Champion, junior
Simon Richardson - TT Series, disabled
Julia Shaw - Women's Champion of Champions and BBAR
Lynne Taylor - 24 hour, women
Kirsty Thys - 12 hour, women
Emma Trott - 10 miles, junior women
John Woodburn - TT series, veterans
Tom Yeatman - TT series juniors
Not present on the night, but also 2007 champions:
Jessica Allen - 25 mile and British TT Champ, junior girls
Matt Brammeier - British TT Champ, espoir
Wendy Houvenaghel - British TT Champ, women
Caroline Kloiber - Nat Hill Climb, women
Jason MacIntyre - 25 mile champion
David Millar - British TT Champ, men
Richard Prebble - TT series and 100 mile, men
Erick Rowsell - British TT Championship, junior boys
RELATED LINKS
You can view a full gallery of photos from the CTT Champion's Night in our gallery section
Cyclist Peter Bissell dies