Cycling's top organisations meet to improve sport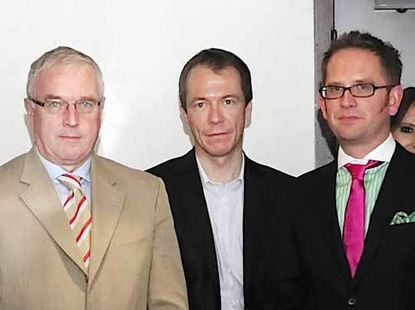 Top representatives from three big cycling organisations representing riders, race organisers and the Union Cycliste Internationale (UCI) met on Friday in Liege, Belgium, to discuss how to move the sport of cycling forward.
Presidents and top representatives from pro riders' group the Association International Groupe Cycliste Professionelle (AIGCP), the UCI and the Association of Race Organisers (AIOCC) met for the first time in four years to try and decide how the three organisations can work together to unify cycling.
The summit was called by AIGCP president Jonathan Vaughters, who in his day job is owner and manager of Team Garmin-Slipsteam as well as being a former professional rider himself.
Those in attendance included UCI president Pat McQuaid, and Christian Prudhomme, director
of the Tour de France.
Past rifts seem to have been healed, and the meeting went well with the group committing to ongoing monthly meetings, each of which will focus on critical items affecting the future of the sport including the UCI's controversial biological passport anti-doping controls and entry into key events.
After Friday's meeting, the group issued a joint statement:
"We had a very productive meeting and we are committed to continuing to work together to improve the stability and credibility of cycling. Today was an excellent first step."
The rift between race organisers and the UCI peaked at last year's Tour de France, when the race was run under the auspices of the French Cycling Federation rather than UCI after a long-running spat over the Tour's inclusion in the season-long ProTour. But it is the riders who have so often been at the rough end of the conflict - with ProTour registered teams no longer guaranteed a place at the grand tours.
(l-r) Christian Prudhomme, Harald Knebel, Jean Rene Bernadeu, Pat McQuaid, Alain Rumpf, Jonathan Vaughters, Philippe Senmartin, Roberto Amadio, Angelo Zomgenan, Patrick Lefevre
Follow Cycling Weekly on Twitter>>
Thank you for reading 20 articles this month* Join now for unlimited access
Enjoy your first month for just £1 / $1 / €1
*Read 5 free articles per month without a subscription
Join now for unlimited access
Try first month for just £1 / $1 / €1