Cyclist escapes with minor injuries after being shot with pellet gun in US sportive
Jeffrey Pratt managed to compete the event with a pellet lodged in his leg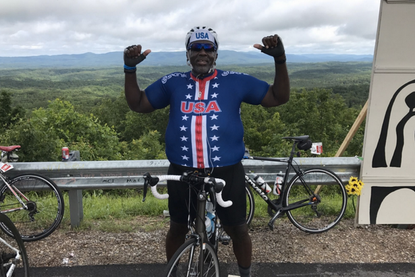 (Image credit: Jeffrey Pratt/Strava)
A cyclist in America has escaped with minor injuries after being shot with a pellet gun while riding in a major sportive.
Jeffrey Pratt was competing in the Cheaha Challenge in Alabama when he felt a sharp pain in his leg. However it wasn't until he had completed the final seven miles of the 120km ride that he found that he found a pellet lodged in his leg.
"I got hit in the leg. It went through my pants, and they're telling me to get it checked out." Pratt, who was riding in memory of his mother, told the Anniston Star.
"I'm trying to do something and leave a little legacy for my grandkids, doing this really to honour my mum, she passed the day before Thanksgiving."
>>> Cyclist shot while out on a group ride in New Orleans
Pratt told police that he was shot from the window of a passing car while another rider was also shot at but not hit. Calhoun County sheriff Matthew Wade said that police already have an idea of who the culprit could be.
"We have a vehicle description, plate number and a suspect," Wade said. "We don't want to release a name at this time.
"The best thing they can do is come in and talk to us."
The Cheaha Challenge bills itself as one of the biggest sportives in the United States, and acts as a qualifying event for the UCI Gran Fondo world championships.
Thank you for reading 20 articles this month* Join now for unlimited access
Enjoy your first month for just £1 / $1 / €1
*Read 5 free articles per month without a subscription
Join now for unlimited access
Try first month for just £1 / $1 / €1