Outrage after saboteur sprinkles spikes on hairpin at Valleys Velo Sportive
Spikes were painted black to make them harder to spot on 40mph descent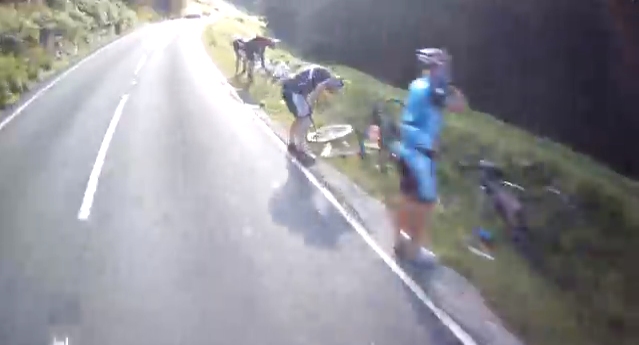 Cyclists at the Valleys Velo Sportive say a rider could have died after vandals dropped drawing pins on the road, puncturing the tyres of more than 70 bikes.
Police are hunting the saboteur who sprinkled the spikes, which were painted black to blend in with the surface, on a 180 degree hairpin bend at the sportive near Bridgend in South Wales.
Richard Manning, 46, was among the cyclists descending at speeds of over 40mph.
He told BBC News: "The placement of these drawing pins on a really fast descent, just before a hairpin bend can only lead to the conclusion that the saboteur was hoping to cause serious injury — or even death.
"Add to this painting them black to camouflage them on the road shows a level of planning I find deeply distressing.
"I only hope that the culprits are caught and that their punishment is enough to dissuade others from this."
More than 70 racers had their inner tubes punctured by the spikes, although no-one is thought to have been injured during the event last Sunday.
In a video posted on YouTube, which you can watch below, several riders can be seen pitched up on the side of the road attempting to repair their punctures.
http://youtu.be/0Dx5fPTS_uU?t=3m
Police are working with event organisers to investigate the act of sabotage.
Organiser Jamie Rowland said: "I couldn't believe it when I first received the call to say what was happening.
"My heart sunk thinking of the riders and their safety who were unfortunately caught up in the unfolding events, all their training and effort undone by some mindless idiot."