Day five Summary: No panic for Team GB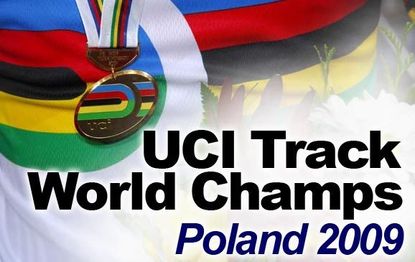 Two years of dominance came to an end for the British track team in Poland last week as the other nations finally pegged them back. But this was no disaster, and there will be no panic or blame reverberating through the offices around the Manchester Velodrome.
This was another five days of solid performances from a very different looking British team that won nine medals from nine different events. There was no bumper gold medal haul like the ones in Palma or Manchester, but the medals that were won confirmed that the British team can still hold their own despite fielding a young team missing five of their Olympic champions.
At last year?s World Championships Sir Chris Hoy, Bradley Wiggins and Rebecca Romero won four individual golds between them and played a significant role in another four. With the team performing well without them, as well as Geraint Thomas and Paul Manning, it appears there is little to worry about.
The team had travelled to Poland secure in the knowledge that this was the start of the run that goes all the way to the London 2012 Olympics ? it was in effect the bottom of the barrel. They could have tried to reproduce the performances of last year but there was no point. There is nothing to gain from winning the team pursuit with the same four riders that won last year; the aim is to move the team on and bring through the young riders that will be competing in three-and-a-half years time.
?It was a conscious decision. We said as a whole group, staff and riders, we?re not going to perform to the level we have in the past, it?s not going to happen,? Performance Director Dave Brailsford said. ?We?re just going to have to take it on the chin, knowing that we?re working to a plan to build and perform well in 2012 rather than panicking and trying to hang on to meet the level of expectation and then die off afterwards.
?The whole definition of a peak is that you come down on the other side. You can?t just go up to a certain level and maintain that flat line of intensity for four years. It?s just not going to happen.?
Although Brailsford admitted that it hurt to lose the titles that GB had made their own in the last two years he knows the performances behind them effectively put them in a stronger position than they were at this point in their build up to Beijing.
They may have lost the team pursuit title that they won for the first time after Athens, but that was with an experienced team. In Poland there were three newcomers to the team, and, if you did want an excuse, all three of them had spent two days in bed with food poisoning just two weeks before.
Despite this, and despite a few mistakes made during the ride, they missed out on a gold medal ride by just a quarter of a second. Blooding young riders and learning from mistakes is exactly what the next two years are for, so that by the time the London games are approaching, the British team pursuit quartet ?whoever is in it ? is likely to be challenging the world record set in Beijing.
QUEEN OF THE TRACK
The British male sprinters looked a lot less sharp than they have done in the last two years, but even then were still good enough for second in the team sprint, fourth and fifth in the keirin, and fifth, sixth and eighth in the sprint; again, not bad if this is the worst they are going to be.
Victoria Pendleton defended her title, and immediately afterwards broke down in tears. Britain?s queen of the track is no stranger to a show of emotion, but her tears last week seemed borne of relief and exhaustion as much as they were happiness.
?She?s come off the back of a successful three or four year push and then put herself under a lot of pressure here to retain that title,? Brailsford said. ?When it does happen it all comes out. That?s a release valve, and all credit to her.
?The way she won it was terrific. The semi final was a hard battle and the final was even harder, and she won by centimetres rather than the normal gap she?d expect to win by. I think that?s testament to her really.
?I think you saw yesterday a truer reflection of what makes her the champion that she is.?
With a silver and a bronze to boot, Pendleton had more than lived up to her title as pseudo team leader for the week and helped settle not only a new batch of riders but a new structure surrounding them.
Both Dave Brailsford and Shane Sutton had decided to step back from the coal face and let new track performance manager Heiko Salzwedel run things in the track centre and give the coaches a new level of responsibility. The teams much lauded psychiatrist Steve Peters was also absent.
?It?s not in my nature to sit back to be honest, I?m a hands on medalling guy, but I?m passionate about it and it?s hard to watch it from a distance,? Brailsford said. ?They?ve done a really good job, they?re professional guys, they know what to do. I?m very pleased with how they work.
?Even though you can rationalise winning a silver rather than a gold it still hurts, it still gets you. It doesn?t make me feel despondent, it makes me think right, we?ve got to get after them now. I want to get out and fight again. If it didn?t hurt, it would be time to quit.?
TEN REASONS TO BE CHEERFUL
THE British team may not have returned from Poland with an armful of gold, but they did win medals in nine events.
1 Strength in depth
Last year Team GB were utterly dominant in Manchester, almost to the point that it was a bit embarrassing for the rest of the world. They won medals in 10 events, but because there were nine gold medals to celebrate it felt like a rout. This year there may only have been two golds, but Team GB won a medal in nine events. And that's without Sir Chris Hoy, Rebecca Romero and Bradley Wiggins in the team ? who between them contributed to seven of those golds in Manchester.
2 Lizzie Armitstead
The 20-year-old from Otley was the rider of the championships for Britain. She was part of the winning team pursuit trio, dusted herself down to get a silver medal in the scratch race and took Britain's first medal in a World Championship women's points race since Sally Hodge in 1988. So Armitstead ended the championships with a medal of each colour.
3 Victoria Pendleton
Pendleton's attempt to win a medal in all four sprint events was hugely ambitious, particularly after the year she's had. The epic sprint final against Willy Kanis took too much out of her for the keirin. But a best-ever performance in the World Championship 500-metre time trial and a first bronze medal, followed by a silver and gold makes it a hugely successful week for a rider who is not at her peak.
4 Women's team pursuit squad
The rest of the world has really started to take the team pursuit seriously and the times the Aussies and Kiwis posted were beginning to encroach on GB territory. But the Houvenaghel-Armitstead-Rowsell trio rode a 3-22.720, which is not very far away from the world record time set in 2008 by a team that had Rebecca Romero in it.
5 Men's team pursuit
Great Britain has won a medal in the World Championship team pursuit every year since 2000. That run came to an end, but the positives are obvious. The team's average age was just 21. Steven Burke, Peter Kennaugh and Jonny Bellis were making their Worlds debut in the event. Half-a-second quicker in qualifying and they'd have been comfortably in the gold medal final. That's without even mentioning that three of the team lost crucial days of training a fortnight before the race because of food poisoning, and that three weeks ago Ed Clancy broke a bone in his foot when he stubbed his toe.
6 Houvenaghel's first World Championship individual pursuit medal
The Olympic silver medallist had never won a medal in a World Championship individual pursuit. When she qualified fastest, it looked as if gold was on the cards, but Alison Shanks recovered better before the final.
7 The team sprint
Jason Kenny's lap was sensational and Matt Crampton filled the Sir Chris Hoy-shaped hole as the anchorman superbly. It looked as if he'd been doing it years. So they didn't beat a French team that has been flying all winter, but it was still a great ride.
8 David Daniell's opening 500m in the kilo
The youngster was the quickest rider in the field over the first 500 metres of the kilo.
9 Most aggressive riders in men's endurance events
Chris Newton, Mark Cavendish and the Cavendish-Kennaugh Madison pair could barely move without being jumped on. That's a compliment to the British team. No one wants to hand them even more success. They can all take the credit for making the race in their events and Chris Newton?s bronze was the first time GB has medalled in a Worlds points race since 2002.
10 Sir Chris Hoy, Wiggins and Romero are due to return
The team finished third in the medal table without three of the most prolific performers of the past 24 months.
RACE REPORTS
The CW Hub: Track World Championships index
Women's points race: Armitstead proves she's a future champion
Women's keirin
Men's omnium
Men's Madison: Danes win as Kennaugh hits the deck
Women's sprint: Pendleton wins fourth title
Women's omnium
Women's scratch race: Silver for Armitstead
Men's kilo TT: Nimke beats Sir Chris's kilo record to take gold
Men's team pursuit: Britain get fourth
Women's team pursuit: Britain clinch gold
women's team sprint: Reade and Pendleton score silver
Men's scratch race: Cavendish marked out of contention
Men's individual pursuit: Phinney wins gold
Men's team sprint: France beat Britain
Men's Points Race: Newton gets bronze
Women's individual pursuit: Houvenaghel beaten to silver
500m TT: World record for Krupeckaite, bronze for Pendleton
NEWS AND FEATURES
Track worlds day four summary: Sensational Pendleton digs deep
Track worlds day three summary: Armitstead again
Track worlds day two summary: Golden girls deliver
Track worlds day one summary: steady start for team GB
Why there's no Brit in the individual pursuit
No individual pursuit for Britain at track worlds
No room for complacency in British Cycling: Iain Dyer interviewCavendish in the frame for Scratch race world title bid
2009 Track Cycling World Championships preview
Crampton set to fill Sir Chris Hoy's team sprint spot
2009 World Track Champs GB squad named
Hoy to miss world track champs
Track World Championships: British medal winners
CW's Dummies' Guide to Track Racing
PHOTOS
GB RIDER PROFILES
Men
Jonathan Bellis
Steven Burke
Mark Cavendish
Ed Clancy
Matt Crampton
David Daniell
Ross Edgar
Jason Kenny
Chris Newton
Jamie Staff
Women
Lizzie Armitstead
Wendy Houvenaghel
Victoria Pendleton
Shanaze Reade
Joanna Rowsell
Jessica Varnish
RECENT RESULTS
International track results last season: 2007-2008
International track results this season: 2008-2009
2008 TRACK WORLD CHAMPIONSHIPS LINKS
Full results from the 2008 track worlds
Report: Sunday, day five>>
Report: Saturday, day four>>
Report: Friday, day three>>
Report: Thursday, day two>>
Report: Wednesday, day one>>
EXTERNAL LINKS
Track Cycling World Championships 2009 official website
Thank you for reading 10 articles this month* Join now for unlimited access
Enjoy your first month for just £1 / $1 / €1
*Read 5 free articles per month without a subscription
Join now for unlimited access
Try first month for just £1 / $1 / €1
Founded in 1891, Cycling Weekly and its team of expert journalists brings cyclists in-depth reviews, extensive coverage of both professional and domestic racing, as well as fitness advice and 'brew a cuppa and put your feet up' features. Cycling Weekly serves its audience across a range of platforms, from good old-fashioned print to online journalism, and video.