Deignan delighted with hard-fought victory over Kreuziger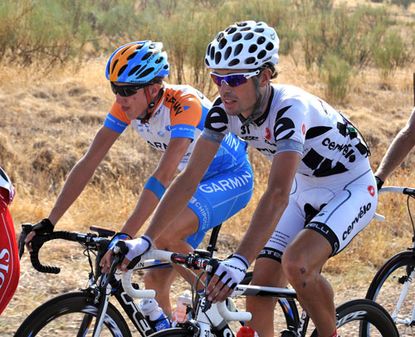 When asked in a winner's press conference how he felt about taking Ireland's first Vuelta stage win in 21 years, Philip Deignan (Cervélo) admitted freely "it's going to take a while to sink in!"
That's logical, given Deignan's stage 18 win came against a much better-known rival, Roman Kreuziger, the up-and-coming Liquigas rider who led his team in the Tour de France and who has already won the Tours of Romandie and Switzerland. Deignan's biggest and only previous win was in the Tour de Doubs back in 2005.
But it was the Irishman who raised his arms in triumph in Avila after getting into the break of the day and then powering away with Kreuziger on the fast run-in towards the finish town.
"I saw he was the strongest in the break, and that's why I went with him when he attacked after the last climb," the 26-year-old Deignan said.
"In the team meeting this morning, we agreed I should go in the break because I was quite a way down overall and thought that the other teams wouldn't mind."
Four and a half hours later, Deignan found himself facing Kreuziger in a battle for the biggest prize of his career.
"I was really nervous," Deignan said. "I've only been in that sort of situation a couple of times and I was waiting for him to attack."
"But on the cobbled sections leading up into the town he didn't make a move, which surprised me a lot. He couldn't have had the legs."
With Cervelo team leader and locally-born Carlos Sastre watching from the TV commentators' box, the 26-year-old said his victory was a great step forward in a career which has been dogged by illness and injury.
"It'll do a lot for my self-confidence from now on," Deignan said, "I feel proud of what I've done."
Vuelta a Espana 2009: Latest news and features
Freire set for retirement in 2010
Unlucky Horner crashes out of Vuelta
Wegelius abandons the Vuelta
Vuelta a Espana 2009: Who will win?
Vinokourov back with Astana for the Vuelta
Britain and Ireland well represented in Vuelta
2009 Vuelta route favours climbers
Cycling Weekly's Rider Profiles: Index
Vuelta a Espana 2009: Stage reports
Stage 18: Deignan takes Ireland's first Vuelta stage win in 21 years
Stage 17: Roux takes solo win
Stage 16: Greipel storms to third win
Stage 15: Boom solos to win
Stage 14: Valverde suffers but strengthens lead
Stage 13: Unlucky Evans loses time on rivals
Stage 12: Hesjedal wins second stage for Garmin
Stage 11: Farrar takes first grand tour victory
Stage 10: Gerrans takes breakaway victory
Stage nine: Cesar wins as Valverde leads in la Vuelta
Stage eight: Cunego takes first mountain stage of 2009 Vuelta
Stage seven: Cancellara outpaces Millar in TT
Stage six: Bozic surprises sprint rivals to take win
Stage five: Greipel wins again and takes race lead
Stage four: Greipel wins after big crash wipes out bunch
Stage three: Henderson wins stage
Stage two: Ciolek takes first road stage, Hammond third
Stage one: Cancellara wins Vuelta opener
Vuelta a Espana 2009: Photos
Stage 17 photo gallery by Graham Watson
Stage 16 photo gallery by Graham Watson
Stage 15 photo gallery by Graham Watson
Stage 14 photo gallery by Graham Watson
Stage 13 photo gallery by Graham Watson
Stage 12 photo gallery by Graham Watson
Stage 11 photo gallery by Graham Watson
Stage 10 photo gallery by Graham Watson
Stage nine photo gallery by Graham Watson
Stage eight photo gallery by Graham Watson
Stage six photo gallery by Graham Watson
Stage five photo gallery by Graham Watson
Stage four photo gallery by Graham Watson
Stage three photo gallery by Graham Watson
Stage two photo gallery by Graham WatsonStage one photo gallery by Graham Watson
Thank you for reading 20 articles this month* Join now for unlimited access
Enjoy your first month for just £1 / $1 / €1
*Read 5 free articles per month without a subscription
Join now for unlimited access
Try first month for just £1 / $1 / €1