DHL Future Stars finish in fine style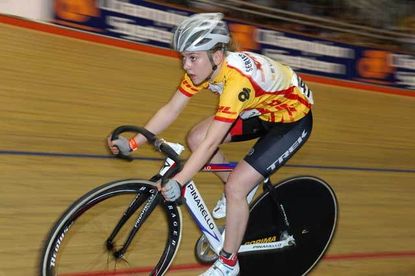 Simon Yates and Ruby Miller held on to their respective leads in the DHL Future Stars competition to win the 2008/9 season during the Revolution track meeting at Manchester velodrome last weekend.
Miller finished an impressive 40 points ahead of rival Laura Trott. Yates took advantage of Sam Harrison?s second no show to hold his lead and finished nearly 30 points clear of his twin brother Adam.
Despite Yates?s large lead at the start of the Revolution the rest of the field were not going to let him have an easy evening. Talented rivals John Paul and Josh Papworth both took convincing wins, Paul in the Scratch and Papworth in the Dash. Yates, however, came into his own in the Point?s race where he timed his ride to perfection taking the opening sprint and scoring points throughout the rest of the race.
Yates was clearly delighted to win the title saying, ?Winning the DHL Future Stars competition is really special. There were loads of fast guys there this year so I didn?t think I would win this season and was really just aiming for a podium place so I was really, really chuffed about winning. It was good too that my brother Adam managed to get second place.?
He continued, ?As for the future I want to try to get onto the ODP and hopefully have a good season on the road this year.?
The Girls racing provided the biggest drama of the evening when Ruby Miller (pictured above) fell badly in the second race. She proved herself once again to be an unstoppable force and climbed back on to take another impressive victory.
In the team competition, the North West finished over 200 points ahead of the rest. Wales and East Midlands finished second and third respectively with just 30 points between them.
As a special surprise at the end of the evening all the winners were congratulated by special guest and Olympic hero Daley Thompson who joined DHL?s Andy Birley for the presentations.
The competition will be back at Series 7 of Revolution in the Autumn and will undoubtedly have another high class field of future stars.
Check www.cyclingrevolution.com for information and for final standings from this season?s competition
Simon Yates (centre) wins the boys' 2008/9 DHL Future Stars competition
Having dominated all season, Ruby Miller (centre) took top honours in the girls' series
RELATED LINKS
Thank you for reading 20 articles this month* Join now for unlimited access
Enjoy your first month for just £1 / $1 / €1
*Read 5 free articles per month without a subscription
Join now for unlimited access
Try first month for just £1 / $1 / €1