Di Luca welcomed on Italian TV, talks future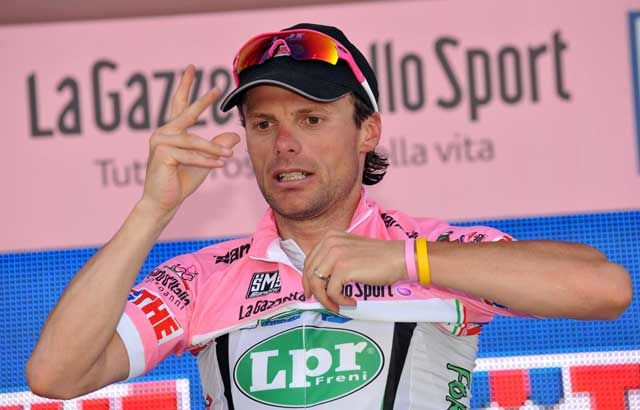 Only 10 months after Danilo Di Luca tested positive for EPO-CERA, Italy's RAI TV welcomed him yesterday in its transmission of Tirreno-Adriatico. Di Luca, at the stage finish in Chieti, spoke of joining Lampre-Farnese Vini when his suspension ends.
"I hope to return to race this year," said Di Luca. "There's a team, I have a contract with Lampre."
But, only last month Di Luca received a two-year ban for doping at last year's Giro d'Italia. The International Cycling Union (UCI) announced in July that he tested positive twice for blood booster EPO-CERA during the stage race, where he finished second overall.
Lampre team manager, Giuseppe Saronni, cleared the air to La Gazzetta dello Sport today.
He said that there had been an agreement for Di Luca to join this year. "But then the agreement was closed," said Saronni. "And in this moment that agreement would not have any value."
Di Luca, 34, backtracked after the live TV transmission, filmed a short distance from his home.
"In a hurry to respond the wrong information came out," explained Di Luca. "It is not true that I have a contract already signed. But, thanks to the connection to Farnese, if I return to race soon then it would be with Lampre."
He raced for LPR last year, which was co-sponsored by Farnese. Fabio Bordonali's LPR team left the sport after he failed to find a replacement sponsor, partly due to Di Luca's positive.
With Di Luca's ban scheduled to end July 21, 2011, and with cycling's image already suffering, maybe RAI could have chosen better guest for its live coverage.
Related links
Di Luca maintains fight despite receiving two-year doping ban
Di Luca positive for EPO at the Giro
CERA: New scourge of the peloton