What dictates Garmin's bike and tyre choice for Paris-Roubaix
The Garmin Sharp team will be changing Cervelo frames for this weekend's Paris-Roubaix all because of some special tubular tyres, as chief mechanic Geoff Brown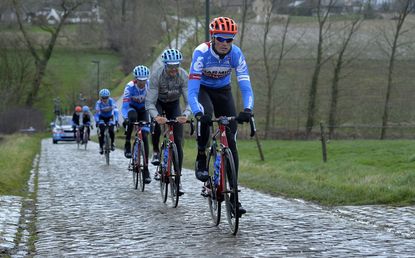 (Image credit: Graham Watson)
The Garmin-Sharp team wasn't highly visible in the finale of the Tour of Flanders Sebastian Langeveld was the team's best finisher in 10th while Johan Vansummeren was involved in an accident which left a spectator in hospital. However, the show must go on and the squad is heading to Roubaix this weekend with different frames, special tubulars and hoping for better luck.
Although Flanders and Roubaix are often paired as races which present broadly the same challenges for equipment and mechanics, the Garmin team will actually be changing frames and tubulars for the French cobbled classic, as chief mechanic Geoff Brown explained. "For Flanders, the guys were riding on 25mm diameter FMB tubulars, like a lot of the other squads during the northern Classics season."
FMB may not be a tyre brand you are familiar with, but then its not exactly a household name, even in racing circles and therein lies a tale.
Although Garmin is sponsored by Mavic both for its wheel options as well as racing tubulars and training tyres, the situation isn't as quite as clear cut as it seems. While Mavic is widely recognised as making some of the best wheel sets on the market it's been making race bike rims and wheels for well over 50 years its much more recent forays into tyre manufacture have met with less acclaim.
So much so that some Mavic sponsored teams use Italian made Veloflex tubulars and have them rebadged as Mavic product. (Which is not to say that the French firm has given up on its tubular tyre development programme. In fact, the smart money says that a new generation of Mavic designed and manufactured tubulars might just appear later this year).
In any case, such are the very specific demands of the cobbles of the northern Classics that Garmin is 'allowed' to buy tubulars from a French, actually a tiny Breton, company that makes small batches of tubulars that are widely used in the pro peloton Garmin is not the only team to use these rather special racing tyres.
"FMB stands for Francois Marie Boyaux (www.fmboyaux.fr) an artisan outfit that makes tubulars which are incredibly supple and ride really well on cobbles they're all made by hand."
"We used a 25mm FMB tubular for Flanders but go up to a special 'Paris Roubaix' model which is more like a 28mm diameter for Roubaix because the cobbles are worse, obviously. A fatter tubular offers a bit more cushioning and comfort for the riders but it still rolls well and rides the bumps better too," explains Brown.
The tubulars have a cotton carcass with a reinforced sidewall which will help them cope with cuts and the higher level of sidewall abuse the tyres will face on the 28 sectors of pave which feature in this year's Roubaix.
However, on the team's Cervelo bikes noted for their aerodynamic properties and stiffness, the bulbous 28mm diameter tubulars are actually too big to fit in the fork and the rear triangle. Basically they foul the fork crown and won't fit in the tight rear triangle.
"The 25mm FMBs fit all the other bikes OK," notes Brown, "but the FMB Paris-Roubaix is too big for the standard R3 or R5 frame sets, so we have to use the R3 Mud frame which has more fork and rear triangle clearance."
The main thing Brown hopes for at any Classic, cobbled or otherwise apart from a win or a podium is an easy, stressfree day nestling in the back of the Garmin team car with spare wheels in his lap. "Yeah, a quiet day with no crashes and punctures, that'd be great." laughed Brown, knowing full well that it's unlikely to ever happen, whether his riders are running well matured FMB Paris-Roubaix tubulars or not.
Thank you for reading 20 articles this month* Join now for unlimited access
Enjoy your first month for just £1 / $1 / €1
*Read 5 free articles per month without a subscription
Join now for unlimited access
Try first month for just £1 / $1 / €1