Director of Dutch cycling federation dies aged 55 after battle with cancer
Huib Kloosterhuis, director of the Dutch cycling federation, has died of colon cancer at the age of 55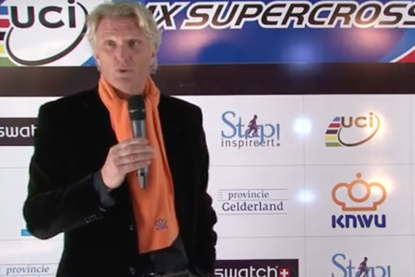 Huib Kloosterhuis, the director of the Royal Dutch Cycling Union (KNWU), has died aged 55 after a battle with colon cancer, the federation announced on Friday.
Kloosterhuis had reportedly been unwell for some time and in January 2016 it was reported that he could not perform his duties as his condition worsened.
KNWU tweeted a picture of Kloosterhuis, which reads: 'In memory of Huib Kloosterhuis, Director KNWU, 1960-2016.
Kloosterhuis and the KNWU hit the headlines at the tail end of 2015 when the federation started legal proceedings against Tour de France organiser ASO over alleged non-payment of a €140,000 fee owed for hosting the Grand Depart in Utrecht last year.
Former Dutch national champion Johnny Hoogerland tweeted: "Shocked by the death of Huib Kloosterhuis. But very much respect how energetic this man has lived the last few years!"
Four-time Tour de France stage winner Erik Dekker also tweeted: RIP Huib Kloosterhus. Strength to the family.
Thank you for reading 20 articles this month* Join now for unlimited access
Enjoy your first month for just £1 / $1 / €1
*Read 5 free articles per month without a subscription
Join now for unlimited access
Try first month for just £1 / $1 / €1