Donations flood in to buy hearing aid for 105-year-old Hour Record holder
Robert Marchand set a new Hour Record for his age group earlier in January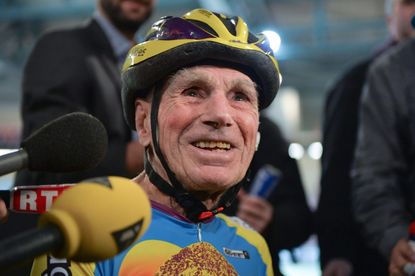 105-year-old French rider Robert Marchand captured the hearts of many when he set a new Hour Record for his age group earlier in January, and now his new fans are coming together to help him buy a new hearing aid.
An appeal for donations by Gérard Mistler, Marchand's coach and the president of the L'Ardéchoise sportive, was launched last week, and, according to Le Dauphiné, saw €800 raised in the first day alone.
Watch: 105-year-old Robert Marchand sets a new Hour Record
The hearing aid that Marchand requires will cost €6,000, which the Frenchman is unable to afford on his €900 per month pension.
Marchand shot to stardom when he set an Hour Record for the newly-established 105+ age group, with a ride of 22.547km at the French national velodrome in Saint Quentin en Yvelines near Paris.
Speaking before taking the record, Marchand said: "I'm not here to break any record. I'm doing it to prove that at 105 years old you can still ride a bike."
Unfortunately there is no crowdfunding site for the fund, with those wishing to make donations told to send a cheque, made payable to Robert Marchand to Association de l'Ardéchoise, 1 place des Myrtilles, 07410 Saint-Felicien, France.
Thank you for reading 20 articles this month* Join now for unlimited access
Enjoy your first month for just £1 / $1 / €1
*Read 5 free articles per month without a subscription
Join now for unlimited access
Try first month for just £1 / $1 / €1