Downing challenges on Ardennes classic stage of Wallonie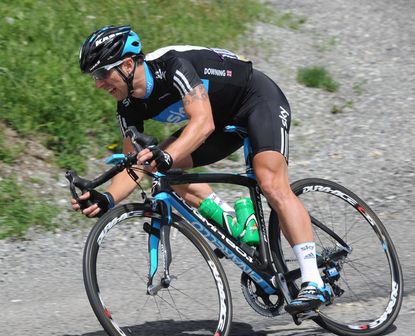 The fourth and hardest stage of the Tour de Wallonie in Belgium, from Vlieslam to Villers-le-Bouillet, saw Russell Downing in fighting form. He took tenth place on a selective day of 11 climbs, including the Liege-Bastogne-Liege steep slogs of Stockeu and Le Rosier.
Despite being closely marked by the leaders' teams, Downing managed jump across a gap to the break towards the end, finished tenth on the stage and moved up to fifth place overall, just eight seconds behind the race leader, Laurent Mangel (Fr) of Saur-Sojasun.
"It was a very tough day, but I was really pleased with how I went because I've not raced since the nationals and have backed off my training a bit before building for the end of the season. I was fourth on an earlier stage, then ninth yesterday," Downing told Cycling Weekly after the stage.
There's one more day to go in the race, a stage from Chaudfontein to Lontzen. It starts hilly but flattens out towards the end.
"I'm going to try and get some bonuses early on, then if that's not enough I'll get ready for the finish and try and get a time gap there.
"The team are up for it and so am I," Downing added.
Thank you for reading 20 articles this month* Join now for unlimited access
Enjoy your first month for just £1 / $1 / €1
*Read 5 free articles per month without a subscription
Join now for unlimited access
Try first month for just £1 / $1 / €1