Downing claims second Tour Series win in Woking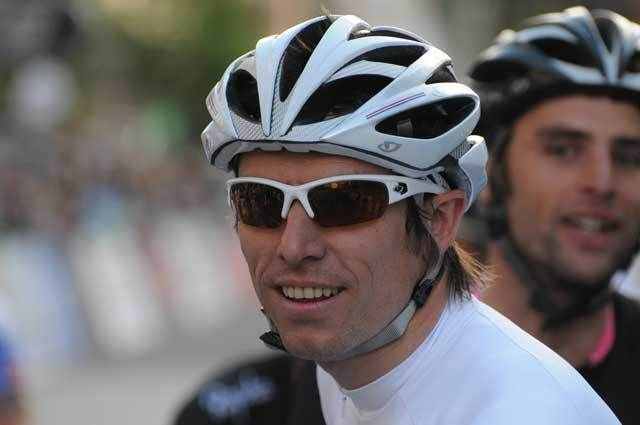 Tour Series Woking photo gallery, by Paul Watson>>

Dean Downing (Rapha Condor) powered to a second consecutive win in the Tour Series, as the team criterium event reached round three in Woking.
Downing (pictured) attacked six laps from the finish of the tight circuit, and time trialled remorselessly to finish well clear of the bunch. The ensuing sprint was won by Plowman Craven-Madison's Tony Gibb, with team mate Stephen Adams in third, and Jeroen Janssen in seventh spot.
Those three placings represented the best team performance on an evening which saw Candi TV's challenge fall away after Graham Briggs was forced to climb off, having fallen twice.
Rapha-Condor now lead the overall standings, by one point from Plowman Craven-Madison, who are just a point ahead of Candi TV-Marshalls Pasta.
Their leader Malcolm Elliott took the sprint prize, after edging out Stephen Adams, but the night belonged to Downing, who ensured there was to be no repeat of his strange celebrations last week in Exeter where he plucked at his white skinsuit.
"This time I gave it the full crucifix!" said Downing who had flung his arms out in celebration on crossing the line.
However, Rob Hayles and Ed Clancy failed to inspire a lacklustre Halfords Bikehut team, who continue their struggles.
"We had no legs today," explained Hayles, who had ridden in the Edinburgh nocturne event and was feeling the effect of the racing and the travelling. His team stand fourth in the table.
The Tour Series now heads into a double-header phase, with Tuesday and Thursday night racing. Round four is on Thursday (June 4) in Peterborough.
You can watch TV coverage of the Tour Series Woking round on ITV4 on Wednesday (June 3) at 7pm.
Photo by Paul Watson
Individual results: Round 3, Woking
1. Dean Downing (Rapha–Condor)
2. Tony Gibb (Plowman Craven-Madison)
3. Stephen Adams (Plowman Craven-Madison)
4. Russell Downing (Candi TV–Marshalls Pasta)
5. Rob Hayles (Halfords Bikehut)
6. Yanto Barker (Sigma Sport-Specialized-Sportful)
7. Jeroen Janssen (Plowman Craven-Madison)
8. Tom Southam (Rapha–Condor)
9. Simon Gaywood (Team Corley Cycles)
10. Ian Wilkinson (Halfords Bikehut)
Team results: Round 3, Woking
1. Plowman Craven-Madison
2. Rapha–Condor
3. Candi TV–Marshalls Pasta
4. Halfords Bikehut
5. Sigma Sport-Specialized-Sportful
6. Sports Beans–Wilier
7. Team Corley Cycles
8. Endura Racing
9. Cyclingbargains.com
10. BMC UK Racing Team
Team standings after Round 3
1. Rapha–Condor 30 points
2. Plowman Craven-Madison 29 pts
3. Candi TV–Marshalls Pasta 28 pts
4. Halfords Bikehut 19pts
5. Sport Beans-Wilier 17pts
6. Sigma Sport-Specialized-Sportful 16pts
7. BMC UK Racing Team 11pts
8. Team Corley Cycles 11pts
9. Cyclingbargains.com 8pts
10. Endura Racing 5pts
Tour Series: Remaining rounds
Round 4 - 4th June - Peterborough
Round 5 - 9th June - Blackpool
Round 6 - 11th June - Southport
Round 7 - 16th June - Stoke on Trent
Round 8 - 18th June - Colchester
Round 9 - 23rd June - Chester
Round 10 - 25th June - Southend on Sea
Dean Downing wins in Woking
Tony Gibb takes the sprint for second
RELATED LINKS
Tour Series Woking photo gallery, by Paul Watson
Tour Series, round three preview
Plowman Craven-Madison: Team survives but faces changes
Cycling Weekly's British team profiles
Cycling Weekly's rider profiles
EXTERNAL LINK
www.tourseries.co.uk