DOWNING WINS BIKELINE TWO-DAY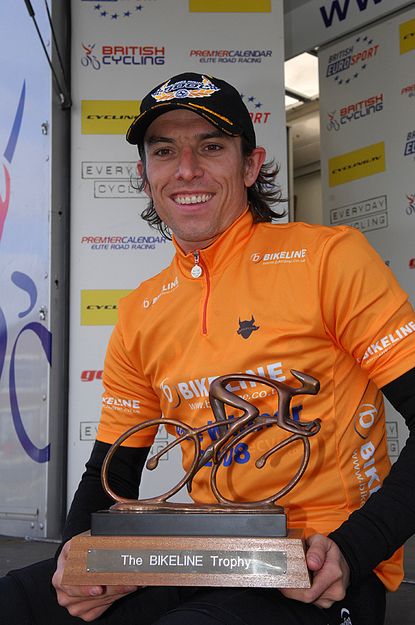 Photo gallery: Bikeline Two Day 2008. By Andy Jones>>
Overnight leader Dean Downing (Rapha Condor-Recycling) won the Bikeline Two-Day Premier Calendar event in North Wales when he finished second to Ian Wilkinson in the third and final stage.
Downing was leading after Saturday?s two stages, where he was second to Wilkinson on the opening 1.6-kilometre time trial and third behind Evan Oliphant (Plowman Craven RT) and fellow Rapha rider Dale Appleby in the opening road stage.
?The first Premier Calendar is always a nervous affair because you never know just how well other people are going after coming out of the winter,? said Dean afterwards. ?The team were fantastic all weekend and I managed to pull a good time trial out of the bag.
?We rode good as a team on Saturday afternoon and got three in the top six in that road race. Being in a team with Dale Appleby and Rob Partridge, what better engines could you ask for?
?Sunday was more of the same. We had the whole team on the front pegging a lead at 40 seconds and 50 seconds and the young lads rode a fantastic race.?
Third spot on Sunday went to his brother Russell Downing (Pinarello RT) who battled back in impressive style.
He was part of an early break of eight which stayed way for 66 miles, but after struggling with a loose water cage he dropped back to the bunch and eventually out the back, where his problem was rectified by team mechanics
After being helped back up to the bunch by team mates he was then part of a chase group which caught the leaders with six miles remaining, Russell battling through to third spot overall.
More on the Bikeline Two-Day at www.cyclingweekly.com later.
Bikeline Two-Day, stage three (provisional).-
1 Ian Wilkinson (Science in Sport-Trek)
2 Dean Downing (Rapha Condor-Recycling)
3 Russell Downing (Pinarello RT)
4 Matt Stephens (Sigma Sport)
5 Gary Hand (Pedalpower.org)
6 Tom Smith (AW Cycles)
7 Matt Higgins (Team Corley Cycles)
8 Evan Oliphant (Plowman Craven RT)
9 Mark Perry (Sports Beans-Willier)
10 Dieter Droger (Sportscover-Spiuk) all same time
Final overall.-
1 Dean Downing 4-22-11
2 Evan Oliphant at 8sec
3 Dale Appleby (Rapha Condor-Recycling) at 14sec
4 Rob Partridge (Rapha Condor-Recycling) at 17sec
5 Matt Higgins at 21sec
6 Matt Stephens at 24sec
Tom Southam leads the pack
Final day's action
Ian Wilkinson takes the stage, and Dean Downing secures the overall victory with his second place. All photos by Andy Jones
RELATED LINKS
Photo gallery: Bikeline Two Day 2008. By Andy Jones
Stage 2: Oliphant takes the honours
Stage 1: Wilkinson wins the time trial
The Big Preview: Bikeline Two-Day
Thank you for reading 10 articles this month* Join now for unlimited access
Enjoy your first month for just £1 / $1 / €1
*Read 5 free articles per month without a subscription
Join now for unlimited access
Try first month for just £1 / $1 / €1
Snowdon Sports is a long-established independent sports news agency, which supplies editorial to a range of media outlets - such as Cycling Weekly - as well as sports governing bodies. Snowdon Sports often covers results at Cycling Time Trials events in the UK and has long been a source of information and imagery to Cycling Weekly.