DOWNING'S SECOND STAGE WIN, BUT NEWTON TAKES YELLOW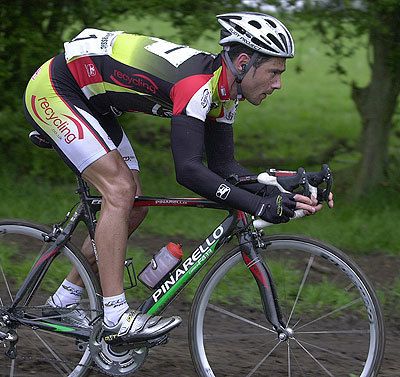 IT was more of the same from Dean Downing today when the Rapha-Condor RT rider took the third and final stage of the Bikeline-Mersey RC two-day race in North Wales.
Downing followed up his victory in yesterday?s 56km opening road stage when he sprinted in ahead of 2005 Premier Calendar winner Robin Sharman (KFS Special Vehicles) at the end of today?s 138km decider at Hope, Flintshire, with Downing?s Italian team-mate Giancarlo Checchi taking third place ahead of Chris Newton (Recycling.co.uk).
But, after his decisive win in the opening 1.6km time trial and ninth place in the first road stage, Newton regained his yellow jersey ahead of Sharman as overnight leader Ian Wilkinson (Science in Sport-Trek) slipped to third overall.
Although beaten by Dean Downing in a two-man sprint at the end of stage two, Wilkinson was in yellow overnight. Downing took the stage as he and Wilkinson crossed the line 11 seconds clear, but overall Wilkinson led by seven seconds from Newton.
Stage 1 (1.6km TT).- Chris Newton (Recycling.co.uk) 2-54.4; 2, I. Wilkinson (Science in Sport-Trek) 2-57.9; 3, F. Johansson (Plowman Craven-Evans Cycles RT) 3-00.5.
Stage 2.- Dean Downing (Rapha Condor RT) 56km in 1-17-21; 2, I. Wilkinson at 1sec; 3, A. Dowsett (100% ME) at 11sec.
Stage 3.- Dean Downing 138km in 3-04-21; 2, R. Sharman (KFS Special Vehicles); 3, G. Checchi (Rapha Condor RT) all same time.
Final overall.- Chris Newton 4-24-47; 2, R. Sharman at 15sec; 3, I. Wilkinson at 18sec; 4, D. Downing at 20sec; 5, G. Checchi at 28sec; 6, O. Beckingsale (Giant RT) at 29sec.
* Against the clock, Pete Tadros (In Gear-Quickvit RT) maintained his early-season form when he won today?s East Surrey RC hardriders? TT over a 30-mile course near Reigate.
Tadros clocked 1-07-51 to finish with 25 seconds to spare over his team-mate and former Tour de France yellow jersey Sean Yates.