Car passenger who threw 'oven cleaner' over cyclist in road rage attack sentenced to litter-picking
Cyclist left with chemical burns after incident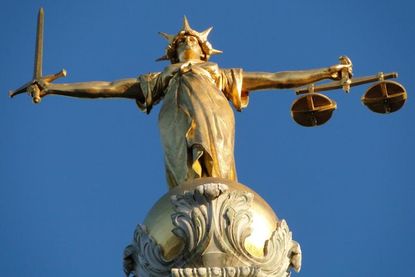 A car passenger who left a cyclist with chemical burns after throwing a strong alkaline substance similar to oven cleaner over him has escaped prison and given a community sentence.
Deborah Tasker admitted assault occasioning actual bodily harm at Hull Crown Court, being sentenced to a 12-month prison sentence suspended for two years and 200 hours unpaid work picking up litter from the road side.
The Hull Daily Mail reports how the cyclist was left with severe chemical burns and permanent skin damage in the attack which occurred at the end of a confrontation between Tasker and a group of riders.
>>> 'Most cycle lanes are not fit for purpose' says Surrey Police
Philip Evans, prosecuting, told the court how the cyclists had tapped on the passenger window of the car after the driver "veered" towards them while travelling across North Bridge in Hull.
"A conversation between the driver and the cyclists followed which led to an exchange of imprecations" Evans continued.
"At the next junction with Percy Street, the cyclist removed the water bottle from his bicycle and squirted water at the Volvo. This was to demonstrate his dissatisfaction with how the Volvo had been driven."
Watch: Four on-bike skills you need to master
http://www.youtube.com/watch?v=ALfTtpvVM74
At the next junction Tasker, sitting in the passenger seat, threw a cold cup of coffee over one of the cyclists, and then followed this up by throwing a "translucent liquid" over the victim.
Later analysis found that the liquid had a pH of 11, which Judge Jeremy Richardson QC described as being similar to "oven cleaner".
The cyclist felt a burning sensation on his leg after roughly half an hour, seeking treatment at Hull Royal Infirmary where doctors were unable to prevent the substance causing permanent damage to the cyclist's skin.
>>> Cycling now the most popular form of rush hour transport on London streets, report shows
In his verdict, Judge Richardson said that Tasker deserved a "draconian" sentence and criticised her for carrying out the attacking in front of her two young children, but stopped short of giving her a custodial sentence because she is a full-time carer for both of her children, one of whom is "medically disadvantaged".
"You are very lucky to be going home tonight," said Richardson as he sentenced Tasker to a 12-month sentence suspended for two years and 200 hours of unpaid work picking up litter from the roadside.
"When you are cleaning the roadside just think about the motorists, cyclists and others. The roadway is for us all – this sort of behaviour in front of children was entirely deplorable and you should be thoroughly ashamed of yourself."
Thank you for reading 20 articles this month* Join now for unlimited access
Enjoy your first month for just £1 / $1 / €1
*Read 5 free articles per month without a subscription
Join now for unlimited access
Try first month for just £1 / $1 / €1