Elinor Barker signs to Matrix Fitness-Vulpine for 2015
Elinor Barker joins Wiggle-Honda team-mate Laura Trott in moving to Matrix Fitness-Vulpine for 2015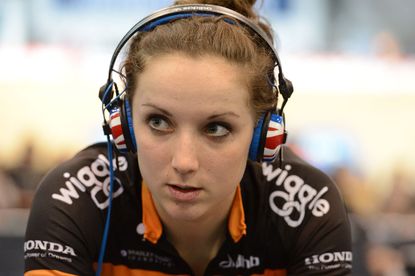 By Patrick Fletcher
Elinor Barker has followed in the footsteps of Laura Trott by leaving Wiggle-Honda and joining the Matrix Fitness-Vulpine team for 2015.
The 20-year-old from Wales is the latest in a string of signings as the British team states its intentions ahead of its first season as a professional outfit.
British riders are at the heart of the team's philosophy and Barker's signature follows those of Trott, Lucy Martin, and Molly Weaver.
Barker is twice a world champion on the track, winning team pursuit gold this year and last, and was the 2012 World Junior Time Trial champion.
She will ride an increased road programme, likely to include the National Road Championships and the Women's Tour, as she sets her longer-term sights on the 2016 Olympic Games in Rio.
"Matrix Fitness is a really exciting team to join," she said. "They are British and on the way up. They've worked hard to develop the UK women's cycling scene over the past five years.
"I've had a really good two years with Wiggle-Honda and of course I thank them for the opportunity they've given me in my first two years as an elite athlete. Now my future is with Matrix Fitness and that's a really exciting prospect."
Wiggle-Honda and Rapha-Condor-JLT riders take honours in famous town centre races
Thank you for reading 20 articles this month* Join now for unlimited access
Enjoy your first month for just £1 / $1 / €1
*Read 5 free articles per month without a subscription
Join now for unlimited access
Try first month for just £1 / $1 / €1