Endura Racing: Team Profile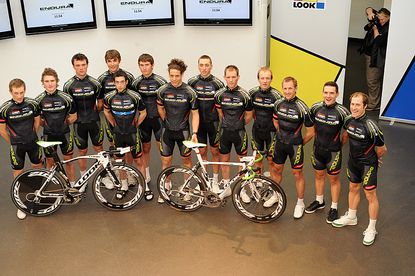 Endura Racing
Endura goes from a relatively small-budget Scottish outfit making occasional forays south of the border to a major player in the UK and abroad in one leap.
It is certainly an ambitious undertaking, with plenty of continental racing pencilled in over the coming months for the 15-man squad, plus the Premier Calendar and Tour Series and plenty in between.
Rob Hayles steps up to a rider-manager role, bringing CiCLE Classic winner Ian Wilkinson and Welsh Champion Rob Partridge with him from the defunct Halfords squad. There is no shortage of champions - past and present - in the line-up, with Scot Ross Creber and Kiwi Jack Bauer holding their respective country's jerseys.
Bauer looks to be a shrewd signing for both road and criterium races, while fellow New Zealander Jason Christie comes with a fine track pedigree. Alexandre Blain is an interesting late addition to the squad. The former Cofidis pro with the big hair has some impressive results in his palmares and is looking for a fresh start with Endura.
RIDERS
Alexandre Blain
Alexander King
Gary Hand
Rob Partridge
Callum Wilkinson
James McCallum
Evan Oliphant
David Lines
Ross Creber
Scott Thwaites
James Moss
Ian Wilkinson
Jason Christie
Jack Bauer
Rob Hayles
MANAGER
Rob Hayles
BIKES
Look
RESULTS
1st Jack Bauer, stage 5, Tour of Wellington
1st Jack Bauer, New Zealand National Championship RR
1st Alexandre Blain, sprints competition, Tour of Murcia
1st Jack Bauer, stage 3, Tour DoonHame
1st James Moss, stage 1, Newcastle Cheviot Four-Day
1st Ian Wilkinson, Dumfries Bikefest Circuit Races
LINKS
www.enduracing.com
RELATED LINKS
Cycling Weekly British Team Profiles: Index
Thank you for reading 20 articles this month* Join now for unlimited access
Enjoy your first month for just £1 / $1 / €1
*Read 5 free articles per month without a subscription
Join now for unlimited access
Try first month for just £1 / $1 / €1