Fabian Cancellara announces comeback plans
Trek Factory Racing rider Fabian Cancellara confirms he will return to racing at the Tour des Fjords at the end of May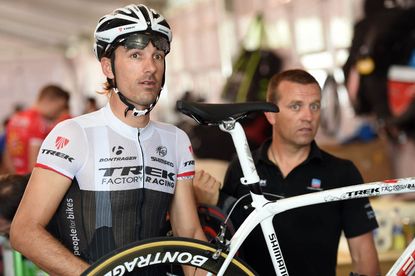 (Image credit: Watson)
Fabian Cancellara admits he's back on the bike and pain free as the Swiss rider plans his comeback from fractured vertebrae suffered earlier this season.
The Trek Factory Racing rider suffered the injuries in a crash in the early stages of E3 Harelbeke - his first cobbled race of the season - and missed the rest of the Classics.
But 34-year-old Cancellara is on the comeback trail, upping his training in his homeland for a return at the Tour des Fjords in Norway at the end of May.
"I have been pain-free since about a week. I still feel it after training, but it's okay now. I didn't ride my bike for three weeks," Cancellara said on the Trek website.
"I was frustrated and bored, because there was nothing I could do. When you crash by your own mistake, you blame yourself. The circumstances of my crash are unclear, I don't remember much, but there was nothing I could do."
Cancellara admits this injury period has been more productive than when he was sidelined in 2012; breaking his collarbone in Flanders and then crashing out of the Olympic Road Race a few months later.
"The 2012 experience has helped me a lot to deal with this misfortune. My world came down then, this time it was different.
"Especially, because there was nothing I could do. There's no surgery for vertebrae. I just had to wait until the pain was gone."
Trek and Cancellara confirmed that there were considerations to send Cancellara to the Giro d'Italia or the Tour of California, but the five-stage Norwegian race came out on top.
Cancellara could be joined by fellow Classics casualty Jesse Sergent, who broke his collarbone when hit by a neutral service car at the Tour of Flanders.
Thank you for reading 20 articles this month* Join now for unlimited access
Enjoy your first month for just £1 / $1 / €1
*Read 5 free articles per month without a subscription
Join now for unlimited access
Try first month for just £1 / $1 / €1