Fallen tree causes disruption after blocking Box Hill entrance
Strong winds pulled down the tree last night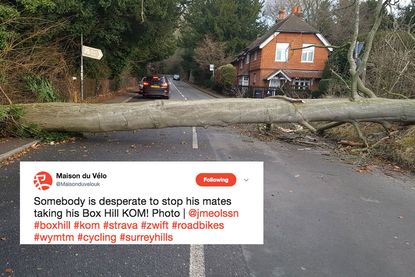 Whilst 150,000 homes and businesses in the UK lost power in the last 24 hours due to high winds and Scotland sits under snow, one of the the greatest issues facing Surrey cyclists this morning was a major offence on their Strava efforts.
A large tree was blown down, falling following high winds overnight.
The tree in question fell across the Old London Road, in Dorking - between the Ryka's cafe and the right hand turn to the Zig Zag Road.
Local cyclist Jamie Olsson (opens in new tab) spotted the fallen tree and snapped the picture. Commenting on the situation, he said: "It was a bit of a shock having to get off my bike and carry it over - good cyclocross training though."
"I've since been told by everyone I should have bunny hopped it," he added.
Olsson sent the picture to Reigate and Cranleigh's Maison du Velo bike shop (opens in new tab) who jested that its demise could have a rather detrimental effect on riders pursuing a KOM or QOM attempt this morning.
Indeed, data from cycling app MyWindsock shows that the riders on the climb this morning could well have enjoyed a tailwind over the first section - but coming to a dead stop wouldn't have lent to a fast time at all.
Listed the second most popular Strava segment in 2016, Box Hill's 2.2km stretch has been covered by 87,320 riders using the cyclist's social media platform.
The current KOM is held by Edmund Bradbury with a time of 4 minutes 26, whilst the women's leaderboard is topped off by local rider Maryka Sennema with 5 minutes 34.
Eye witnesses from Destination Bike (opens in new tab) - the place of further bike delights that sits on Box Hill Road after the climb - tell us that the tree has now been cleared away.
Geoff Clifton, manager and co-owner told us: "[The tree] was big and they have only removed the bit over the road so far. I had to crawl under a tree on my walk here this morning. This was no challenge to George of course.."
With the tree mostly cleared, no further risk is posed to the efforts of cyclists in and around the Dorking area.
Thank you for reading 5 articles this month* Join now for unlimited access
Enjoy your first month for just £1 / $1 / €1
*Read 5 free articles per month without a subscription
Join now for unlimited access
Try first month for just £1 / $1 / €1