Fernando Alonso fails to register his cycling team
Existence of Formula One star Fernando Alonso's cycling team falters again as he fails to register with the UCI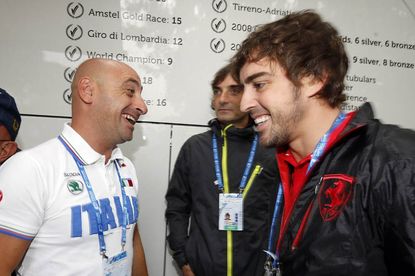 (Image credit: Watson)
Fernando Alonso's dream of entering cycling will not come true according to Spanish daily AS, which received confirmation that the Spanish Formula One driver has not asked the governing body for a 2015 team licence.
"Alonso has not asked the Union Cycliste Internationale (UCI) to register a team for the 2015 season," AS wrote today, "neither as a WorldTour nor a Professional Continental team."
The October 1 deadline came and went without the UCI hearing from Alsono. The only news regarding Alonso over the last week came from outside of cycling, that the two-time World Champion will leave Ferrari and likely race for McLaren, being replaced by Sebastian Vettel.
On the eve of the deadline, Alonso issued a statement with sport managers NOVO Group Holdings that indicated he was still serious about creating a cycling team.
"We want to create a competitive, sustainable team franchise," said Alonso. "I know what makes an organisation successful. It is this experience and desire to win that I will bring to this project."
Alsono came close to entering cycling in September 2013 when Euskaltel was pulling out of cycling, but reportedly could not reach an agreement with the Basque team over its existing rider and sponsorship contracts. Instead, the 33-year-old said that his "desires and intentions" were geared towards the 2015 season and creating a team from scratch.
Alonso visited the Giro d'Italia and reportedly had a €100m (£79.8m) sponsorship agreement for five years from the UAE. He was supposed to announce the team structure and sponsorship details on the Tour de France's first rest day, July 15, but that day quietly passed like the October 1 deadline.
His manager Luis García-Abad explained that the UCI's rules created problems for new teams trying to enter the sport at the top level, like Sky and Orica did in the last five years. He did not want to sign contracts with cyclists or sponsors without a licence confirmed.
"Without the licence, we can't do anything," García-Abad said. "The rules are what they are, and we have to accept them. We don't question if they are good or bad."
Without Alonso, the WorldTour may only feature 17 instead 18 teams for the 2015 season. Cannondale is leaving behind its first division licence to sponsor Jonathan Vaughters' Slipstream team known as Garmin-Sharp in 2014.
Formula One driver Fernando Alonso's team takes leap forward as deal with sport investment managers is signed
Thank you for reading 20 articles this month* Join now for unlimited access
Enjoy your first month for just £1 / $1 / €1
*Read 5 free articles per month without a subscription
Join now for unlimited access
Try first month for just £1 / $1 / €1