Fernando Alonso's cycling team taking shape
Formula One driver Fernando Alonso's team takes leap forward as deal with sport investment managers is signed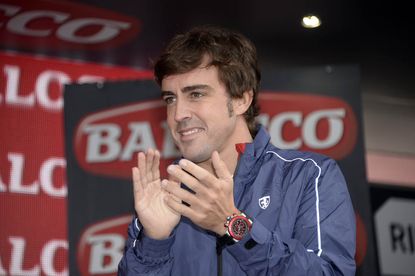 (Image credit: Watson)
Formula One driver Fernando Alonso is slowly entering cycling, confirming yesterday a new partnership deal with sport investment managers, NOVO.
"I'm thrilled to be part of this new venture," said the Ferrari driver and two-time World Champion in a NOVO Group Holdings press release. "I get to indulge my passion for cycling and obsession with technology and design with like-minded people. We see a window of opportunity and plan to kick it wide open!"
Alonso has passed through several of the UCI's windows. He met a deadline last month and paid a €16,000 fee for his potential team. Today, October 1, he and other teams had to file pre-contracts with 10 cyclists, a 25% budget guarantee and future sponsor documents.
Over the last year, rumours with little official reports surrounded the Spaniard's team. It no longer appears 33-year-old Alonso will debut his team in the first division WorldTour, as Sky and Orica did, but in the professional continental, second division. He would have the chance to see his team race as a wildcard in the Grand Tours – the Giro d'Italia, the Tour de France and the Vuelta a España – with the third being most likely for 2015.
Yesterday's press release from NOVO's headquarters in Dubai, UAE, officially shows Alonso's project is racing towards reality. Despite the Japanese Grand Prix this weekend, Alonso and his manager Luis García-Abad had time to announce the NOVO deal.
The sport investment group could secure the team's 2015 backers and see the team take shape, with riders and staff named, in the coming month.
"Current social, economic and market conditions have created an attractive proposition for investors," NOVO's Managing Partner Nathan Pillai said.
"Our research points to certain segments of the market where participation, consumption and media interest in all things cycling are on the up. Inspired by what we have learned in F1, we see opportunities in high performance products, wearable technologies and content that serve these segments.
"We want to create a competitive, sustainable team franchise that is loved and admired for its innovation, transparency and commitment to social responsibility. We are busy putting in place the foundations required to achieve the long term success we desire."
"I've been fortunate to have worked with some of the World's most desirable and innovative companies such as Ferrari, Oakley, Renault and McLaren," added Alonso. "I know what makes an organization successful. It is this experience and desire to win that I will bring to this project."
The F1 season ends on November 23 in Abu Dhabi. If Alonso's cycling project fails to take shape by that time, his 2015 window could close.
Thank you for reading 20 articles this month* Join now for unlimited access
Enjoy your first month for just £1 / $1 / €1
*Read 5 free articles per month without a subscription
Join now for unlimited access
Try first month for just £1 / $1 / €1