Alonso's new team awaits licence decision before signing riders
Fernando Alonso's manager, Luis Garcia-Abad can't sign any riders until they learn whether or not their licence application has been successful. But with riders signing contracts already, they could be left with nothing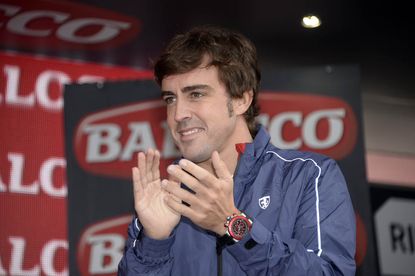 (Image credit: Watson)
Fernando Alonso has begun his race to start a cycling team with his application for a UCI licence. Ahead of the deadline last Friday, August 1, his manager submitted its request to have a first division team for 2015.
"We've got people working on forming the team and they are following the deadlines imposed by the UCI," Luis García-Abad told Spain's AS newspaper, "Without the licence, we can't do anything."
The UCI will announce its 18 WorldTour licences, some renewed and some new, in October. Until their licence to race is secured, Alonso and his people do not want to offer any contracts.
Peter Sagan and other top stars were once linked to the two-time Spanish Formula One champion, but as it is, they have inked contracts with other teams. Sagan is reportedly leaving Cannondale for team Tinkoff-Saxo. Others like Lars Boom and Nacer Bouhanni already confirmed their new teams.
"The rules are what they are, and we have to accept them," García-Abad explained. "We don't question if they are good or bad."
Alonso reportedly has €100m (£79.8m) for five years from Dubai sponsors to roll into his FACT (Fernando Alonso Cycling Team) project. With the big names already tied to other teams, though, the money may be better spent in 2016.
For 2015, Alonso may have to opt for Plan B: taking over an existing team. He has three options with Cannondale leaving its licence behind to join team Garmin as a sponsor and Dutch teams Giant and Belkin needing new backers. Plan B would give him his entry and allow him to make changes gradually for 2016.
Alonso was set to take over the Euskaltel team in 2013 when it was folding, but pulled the plug late into the year. For now, nothing appears certain but Alonso's licence application.
"We are not coming [into cycling] to save anything," added García-Abad. "We want to create our team with our ideas from Formula One. Not just technology, but we want to create a team that is profitable. We don't understand how a cycling team can only operate on the money it receives from its sponsor."
Fernando Alonso dispels rumours that his cycle team project has been shelved
International cycling news round-up (Dec 12): Armstrong lost cooperation chance; 2014 WorldTour teams; Anton find team; and more
Updated: Negotiations between Euskaltel-Euskadi and Fernando Alonso collapse, but the F1 driver still aims to create team for 2015
Thank you for reading 20 articles this month* Join now for unlimited access
Enjoy your first month for just £1 / $1 / €1
*Read 5 free articles per month without a subscription
Join now for unlimited access
Try first month for just £1 / $1 / €1