Fernando Alonso's cycling team may not be WorldTour level
Fernando Alonso Cycling Team may be second-tier Professional Continental rather than WorldTour outfit - Lack of top class riders available may curtail initial plans for F1 star's squad - Funding for squad is apparently in place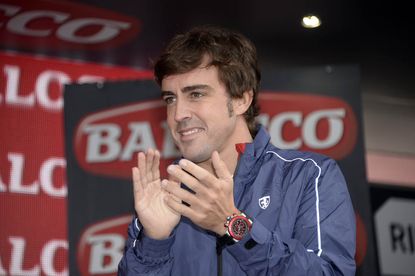 (Image credit: Watson)
Formula One star Fernando Alonso is reportedly still planning to debut his cycling team in 2015, but he could do so with lowered aims. Instead of the first division WorldTour, Spain's Bici Ciclismo website reported earlier this month that the Spaniard's team may race in the second division and hope for wildcard invitations to the Grand Tours.
The 33-year-old two-time F1 world champion already paid a fee to cycling's government, the UCI, to have a team. It was reported that he would enter cycling with a bang, but with very few champions available – Alejandro Valverde re-signed with Movistar today and Bradley Wiggins indicated he will do the same with Sky – he may use the back door.
Budget, sporting and administration requirements for second division teams are not as strict as those the first division WorldTour teams face. Money should not be a problem because Alonso reportedly has €100m (£79.8m) for five years from Dubai sponsors to roll into his FACT (Fernando Alonso Cycling Team) project.
BMC Racing and Giant-Shimano came through the second division to join the top ranks. Sky and Orica-GreenEdge debuted at the top, but had to take some risks doing so by contracting riders before its licence to race in the first division was actually in their hands for the 2010 and 2011 seasons, respectively.
Alonso's manager, Luis García-Abad said in August that he would not step ahead in the process by contracting riders without a team licence to race in the 2015 season. Doing so, star riders went shooting by to potential rival teams. Peter Sagan signed with Tinkoff, Valverde renewed with Movistar and others made their plans already.
"We've got people working on forming the team and they are following the deadlines imposed by the UCI. Without the licence, we can't do anything," García-Abad told Spain's AS newspaper last month. "The rules are what they are, and we have to accept them."
The next step to becoming a UCI team is to present signed contacts, 10 if it wants to be in the WorldTour, by October 1. Bici Ciclismo reported that Alonso will enter cycling through the second division and try to join the first division WorldTour by 2016.
"We have several opportunities to create the team next year and we are making decisions about what is best," Alonso said on September 2. "I'll begin in a very humble way, with young talent who can grow slowly, and help the youth [before building] the best team possible as soon as possible."
If Alonso, who races Sunday at the Singapore Grand Prix, were to start a second division team, then he could ask for wildcard invitations to cycling's Grand Tours and other big races. He should be able to get his team into the Vuelta a España and perhaps the Giro d'Italia, but would have to likely wait until his team proves itself in 2015 to receive a Tour de France invitation.
Formula one star Fernando Alonso visits the Giro d'Italia, but is cagey on details of his cycling team
Fernando Alonso dispels rumours that his cycle team project has been shelved
Thank you for reading 20 articles this month* Join now for unlimited access
Enjoy your first month for just £1 / $1 / €1
*Read 5 free articles per month without a subscription
Join now for unlimited access
Try first month for just £1 / $1 / €1