Fernando Alonso still aiming to launch his cycle team in 2015
Formula one star Fernando Alonso visits the Giro d'Italia, but is cagey on details of his cycling team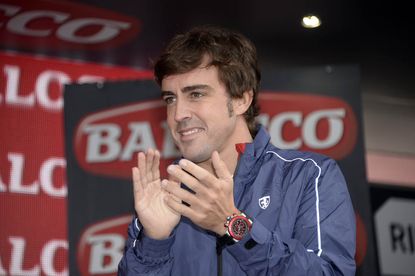 (Image credit: Watson)
Fernando Alonso visited the Giro d'Italia today and said that by 2015, he hopes to debut his cycling team. The Formula 1 two-time champion, though, gave few details.
"We decided to go create our own team in December or January, now we are in May, June," Alonso said on the Panarotta climb, where Julian Arredondo won. "We are working on it but when there's not news... We have to wait until we get a licence, and that deadline is in November. We can't even talk to riders until August 1, according to the rules, and until then, it's just rumours."
Alonso expressed interest in entering cycling before with Alberto Contador and last year, when he considered taking over team Euskaltel. Now, he is driving towards 2015 with the idea of having a new first division team, similar to how Sky or Orica debuted in cycling – at the top.
"If we make a team, it'll be with our ideas," Alonso added. "The first thing we have to do is create a team at a great level to attract riders."
Alonso's manager Luis García Abad met with officials of cycling's governing body, the UCI, a week and a half ago. They reportedly pushed him to take over a current team, but Alonso wants to do things his way. Today, sitting in a Giro d'Italia VIP car he had a chance to see cycling close up.
"I hope to come and be in the car again, but as a team manager. That's the desire, our intentions for 2015," Alonso said. "We are working on our project, but I'm in a world that I don't know well. We want to create a team, a good team, taking F1 to cycling. Maybe that will bring us the good riders and be good for us. It's step by step for now."
The 32-year-old Spaniard rode side-by-side in the VIP car with Paolo Bettini, two-time world champion and 2004 Olympic champion. Bettini left his job as Italy's national head coach last year to manage Alonso's project with Abad. Last week, he told Cycling Weekly that if Alonso is visiting the Giro then that means that they would soon have an announcement.
Bettini said in March that they would announce the team's sponsor during the spring classics. The time passed. They are said to be naming the sponsor, likely coming from the UAE, on the Tour de France's first rest day, July 15.
Fernando Alonso dispels rumours that his cycle team project has been shelved
Cycling team of Formula 1 star Fernando Alonso could announce sponsor in next week, says manager Paolo Bettini
Thank you for reading 5 articles this month* Join now for unlimited access
Enjoy your first month for just £1 / $1 / €1
*Read 5 free articles per month without a subscription
Join now for unlimited access
Try first month for just £1 / $1 / €1