Fernando Alonso's team to announce sponsor soon
Cycling team of Formula 1 star Fernando Alonso could announce sponsor in next week, says manager Paolo Bettini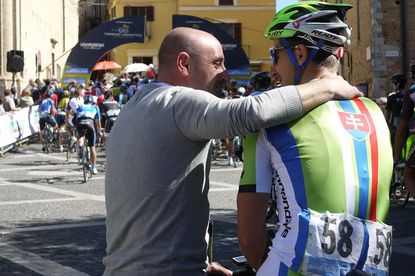 (Image credit: Gregor Brown)
Team Fernando Alonso will announce its sponsor ahead of the big classics, maybe within the next week. Two-time world champion and the team's manager Paolo Bettini said this morning that the pieces are falling into place for the team's 2015 debut.
"We will announce the sponsor shortly," Bettini told journalists including Cycling Weekly. "It's only a matter of days. They have to finalise some of the details but before the big classics, you should know everything."
Bettini refused to say where the team found the sponsor when asked if it is coming from Dubai as reported. If he and the new team of Spain's Fernando Alonso announce the sponsor before the big classics then it could be as soon as this week, before Milan-San Remo on Sunday. San Remo kicks off the spring classics. Ghent-Wevelgem follows one week later, March 30, and the Tour of Flanders two weeks later.
The two-time Formula One champion already convinced Bettini to leave his post as Italy's head coach to manage his team. The 39-year-old Italian from Livorno works directly with Luis García Abad and messages Alonso.
"I don't have the details, Fernando does. He's the one who needs to talk, I need to work!" Bettini said. He attended the start of Tirreno-Adriatico stage six this morning in Bucchianico, near Italy's east coast and Chieti.
"We are working because January 1 is near. It's not far off," Bettini added. "We are working on the project, it's great. I understand it more and more as we go ahead. For the details and information, it's correct to wait for the right moment and for Fernando to explain them."
Bettini eyes several riders to fill out Alonso's first division team of 28 to 30. Last year's top rider and winner of Tirreno stage three, Peter Sagan reportedly signed an agreement for €3.3m. Neither party, however, would confirm the deal. Since the rumour, a new report linked Sagan to Tinkoff-Saxo. His current team, Cannondale said today that it wants to try to keep him in house for 2015.
"It's normal that when someone has his contract coming up for renewal that he has offers and takes decisions," Bettini said. "I don't think that Sagan has signed with anyone at this point. He's still free to make his choice. The demand is high but that's because he deserves it."
Bettini spoke with several riders this morning at the start in Bucchianico, including Sagan, Tony Martin (Omega Pharma-Quick Step), Fabian Cancellara (Trek Factory Racing) and Tirreno stage two winner, Matteo Pelucchi (IAM Cycling).
He explained that he would like to work with Edvald Boasson Hagen (Sky) and that Joaquím Rodríguez (Katusha) has a contract already for 2015.
"We are working to have an important team then the results we'll see at the end of 2015. You can win big races with new riders [instead of hiring known stars]," Bettini said. "I'm working on the team project, we have to create it and go to the UCI commission in November with something concrete."
International cycling news round-up (Dec 12): Armstrong lost cooperation chance; 2014 WorldTour teams; Anton find team; and more
International cycling news round-up: Europcar aims for WorldTour; Wanty to save Vacansoleil; Armstrong's Olympic medal with IOC; Georges doping case
Updated: Negotiations between Euskaltel-Euskadi and Fernando Alonso collapse, but the F1 driver still aims to create team for 2015
Alberto Contador will stay with Saxo-Tinkoff for 2014 season and will not move to F1 star Fernando Alonso's new squad
Thank you for reading 5 articles this month* Join now for unlimited access
Enjoy your first month for just £1 / $1 / €1
*Read 5 free articles per month without a subscription
Join now for unlimited access
Try first month for just £1 / $1 / €1