Ferrari releases Tour de France edition sports car - but it's not quite what you think
Prestigious Italian sports car manufacturer Ferrari produces a yellow Tour de France F12TDF model, but it turns out it's not THAT Tour de France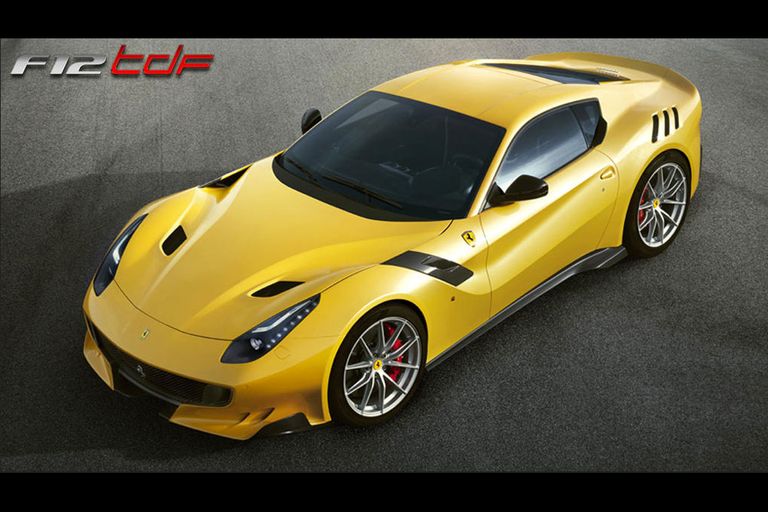 (Image credit: Ferrari)
When we clapped eyes on photographs of Ferrari's F12 Tour de France limited edition sports car, we were stunned that the prestigious Italian car manufacturer would dedicate such an exclusive machine to a humble bike race.
Few pro riders with some extra cash would object to a bright yellow F12tdf sat in their garage, the colour of which appears to mimic the coveted maillot jaune of Tour race leader.
It turns out, though, that we were right to be stunned. Ferrari are actually referring to the Tour de France Automobile, and not the proper cycling Tour de France at all. Ferrari, as the company points out, were dominant in the car racing version of Le Tour in the 1950s and 1960s.
We're not the only ones to be a bit confused.
"You'd think Ferrari would make a Giro d'Italia version," joked 2015 Tour winner Chris Froome on Twitter. "Would make a nice Le Tour prize though!"
Ferrari will produce just 799 of the F12tdf models, which features a V12 engine and a 0-100kmh time of 2.9 seconds.
Ferrari was most recently linked to pro cycling at the Abu Dhabi Tour, where the marque designed the trophy given to overall winner Esteban Chaves (Orica-GreenEdge).
Italian bike manufacturer Colnago produced a Ferrari-branded road bike, the CF10, earlier this year which was available in a limited run of just 100 models.