Flanders fears for cobbles virgin Faiers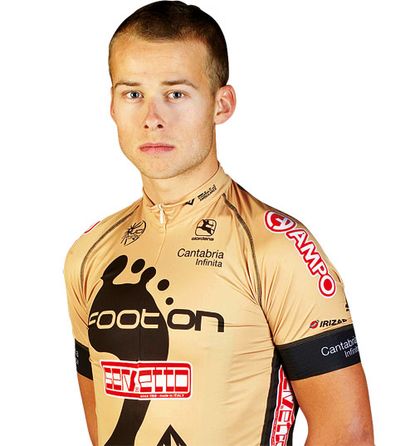 Tom Faiers didn't think he was made for cobbles, but his fears became abundantly and painfully realised in recent weeks as the British neo-pro made up part of the Footon-Servetto-Fuji line-up in Ghent-Wevelgem and the GP E3 Harelbeke.


"I'd never raced in Belgium before, especially the cobbles, and it was a real shock. I didn't think it would hurt so much. It just feels like you've been shot in the hand," he said.
To his credit, Faiers made it 140 kilometres in Gent-Wevelgem before abandoning in good company, in a group with Tom Boonen and Edvald Boasson Hagen.
As keenly as he dislikes the cobbles, Faiers had nothing but praise for the unique atmosphere. "I hate Belgium - the wind, the rain, the little roads - but the fans are just unbelievable, so much better than the fans anywhere else in the world."
Faiers is down for the big one too: the Tour of Flanders, on Sunday. "I'll be trying to get in the early break, and then hang on as long as I can. It's going to be great to race one of the world's biggest races," he enthused.
Building slowly
The start to his first year in the professional ranks has been slow - perhaps fittingly, considering that Spanish-based Faiers had never ridden a UCI .1 or .2 rated race before this season.
He noted that the main difference is the all-round quality of the bunch: "I knew it was going to be the case, but everybody in the race is really good. It's taking a bit of time to adapt to the distance and style of racing and loads of other things."
After the Tour of Flanders, Faiers is scheduled to head back to Spain for the Klasika Primavera, the Vuelta a Castilla y Leon and the Tour of Asturias.
The 22-year-old has recently been training with Alejandro Valverde and Luis Leon Sanchez in their local chaingang, and is still in the frame for a Giro d'Italia ride if he can get down to his race weight and into some decent form.
However, though his squad recently received their invite to the Tour de France, Faiers is in no rush. "I'd like to do the Vuelta - I've always watched it every year - but even if I didn't ride a Grand Tour this year, it wouldn't be a bad thing. It takes it out of you and I've got a lot of time to do it."
One thing is certain: this will be Faiers's first and last Tour of Flanders, if he can at all help it. "The cobbled classics are something I've never done or wanted to do. When I'm doing my programme next year, I will certainly be leaving them out. I'd rather ride up Mount Everest instead!"


Related linksTour of Flanders 2010: The Big Preview
Thank you for reading 20 articles this month* Join now for unlimited access
Enjoy your first month for just £1 / $1 / €1
*Read 5 free articles per month without a subscription
Join now for unlimited access
Try first month for just £1 / $1 / €1