FLEEMAN FOLLOWS IN BERNHARD KOHL'S FOOTSTEPS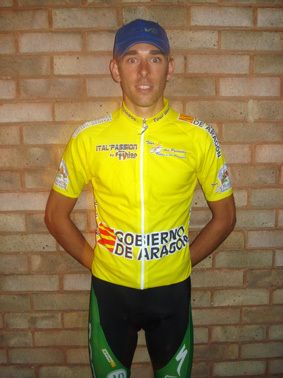 Dan Fleeman hopes his victory in the Tour des Pyrenees stage race will pave the way to winning a contract with a big team for next season.
In 2004 the race was won by the Austrian climber Bernhard Kohl, who finished on the podium at the Tour de France this summer. Frank Schleck is another rider who has finished in the top three of the Tour des Pyrenees. Fleeman wouldn?t mind following in their footsteps.
The 25-year-old set himself up to win the yellow jersey by finishing second on the toughest stage of the four-day race, the summit finish at Couraduque.
Then his An Post-M.Donnelly-Grant Thornton-Sean Kelly team helped defend his overall lead.
It is the biggest win of his senior career and consolidates his progress during his first year with the Irish squad. Now he is keen to move on.
?This win has given me the confidence to go and approach big teams and show them what I can do,? he said. ?I think I can be a really good climbing domestique for one of the big teams and I hope to get a chance next year.
?I have got some irons in the fire and there are some teams I have been speaking to but I can?t talk about it about the moment.?
But his enthusiasm for a move is not a reflection on the An Post team. He has nothing but praise for the way the season has panned out. ?I?ve been really happy there this year. It?s a shame the team hasn?t grown a bit bigger so we could all stay there but they are a small Continental team and they recognise the value in that. They are happy being a really good, well-run small team rather than trying to be bigger but less well organised.
?We?ve not really lacked anything and Sean?s name has meant we?ve had a better programme than a lot of teams of a similar size.?
Fleeman and his team-mate Dan Lloyd are often seen as a double act. They are both British, both called Dan and both ride for An Post. They?ve even been on holiday together. Ideally they?d like to ride for the same team again next year, but Fleeman accepts that could be difficult.
?I feel I can move on, but Dan definitely deserves it. I?d love it if we could go to the same team but it?s not as if we?re really in the position to insist a team takes us both.?
With a British-backed team on the horizon, two British stage racers with climbing ability would presumably be in demand.
?I?ve not had too much contact from BC,? Fleeman said. ?I asked to be put on the whereabouts [anti-doping] programme this year and they did that, but I haven?t spoken to anyone about a team.
?Dan has been told he?d be in the frame, but then he was told he was in the frame for the Olympics too.
?To be honest, I have to make the right decisions for myself now and if the British team comes along and there?s an opportunity, that?d be very interesting, but I can?t pin everything on that in case it doesn?t happen or in case they?re not interested in me.
?I?ve made my way steadily and it?s better for me to keep making progress. It's better for me if I earn things myself. I?d like to get something signed before the Tour of Britain.?
Fleeman started working with the American coach Hunter Allen in May and has already seen results.
?I used to be a mileage man, but last winter I went a lot more for quality over quantity. He gets me working every day. Each day is really specific. It?s not just a four-hour ride, but it may have 20-minute intervals or five-minute intervals.
?We have this software to quantify our training and how hard the session has been, Every day in the Tour des Pyrenees was actually easier than the training I?d been doing the previous week and that gave me a lot of confidence.?
Fleeman got the job done in the first two days and then defended with the help of his team.
?The thing that pleased me is I?ve always thought of myself as a good climber. I?ve been in hilly races but I?ve never been in a race which has stayed in the mountains or had a summit finish,? he said. ?I had a good idea I would go well but I really had to test that and prove to myself that I am that kind of rider.?
Once in the yellow jersey and with a lead of 1-34 over Norway?s Stian Remme as the race headed over the border into Spain, there were relatively few stressful moments. ?The team was really good. The second last day I did practically nothing and on the last day I did absolutely nothing.?
America?s Andrew Bajadali attacked on a descent and gained 30 seconds to jump up into second place but Fleeman?s winning margin was still 1-08 at the end of the race.
After a one-day race in Belgium next week, Fleeman will prepare for the Tour of Ireland and Tour of Britain.
Thank you for reading 10 articles this month* Join now for unlimited access
Enjoy your first month for just £1 / $1 / €1
*Read 5 free articles per month without a subscription
Join now for unlimited access
Try first month for just £1 / $1 / €1
Sports journalist Lionel Birnie has written professionally for Sunday Times, Procycling and of course Cycling Weekly. He is also an author, publisher, and co-founder of The Cycling Podcast. His first experience covering the Tour de France came in 1999, and he has presented The Cycling Podcast with Richard Moore and Daniel Friebe since 2013. He founded Peloton Publishing in 2010 and has ghostwritten and published the autobiography of Sean Kelly, as well as a number of other sports icons.