FUTURE STARS MEET THEIR HEROES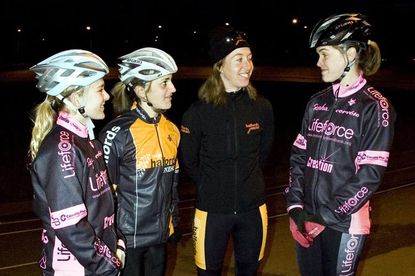 The final race of the Cardiff JIF Lung Openers 4 series at Maindy Track, Cardiff, saw the Lifeforce Development team meet up with Halfords-Bikehut riders Nicole Cooke and Katie Curtis.
The team took time out from their training camp to compete at the Cardiff JIF Lung Opener as a warm up before the racing season kicks off proper.
BBC Wales were on scene to film the girls' meeting which illustrates the depth of cycling talent in Wales today.
Nicole and Katie took time out of their busy schedule to offer the girls advice and encouragement on their cycling careers. The Lifeforce girls - Ruby Miller, 15, Hannah Manley, 14, Sarah Crowley,13, Elinor Barker, 13, and Manon Morgans, 14 - were thrilled to meet their heroes and took the opportunity to ride a few warm up laps with Katie.
Elinor Barker, 13 from Heath, Cardiff, said that meeting Nicole and Katie was ?brilliant? and that she couldn?t believe it when a crowd gathered around her and the other Lifeforce girls asking for their autographs!
Elinor rides track events, road, cyclo-cross and circuit and has been riding now for three years. She is hoping to win a medal at the Track National Championship in August and is currently training hard. Super fit Elinor also enjoys running and taking part in triathlon events. Last weekend her Cardiff and Vale Athletics team came first in the under 13?s Welsh Championship but she says her cycling definitely takes priority!
Manon Morgans, 14, from Rhiwbina, Cardiff trains with Katie Curtis and so already knew her well but had never met Nicole before. Manon thought it was a great experience and was thrilled that Nicole had time to talk to her. Manon does a mixture of road and track events but definitely prefers the road. She came sixth in the National Circuit Race Championships for under 14 girls last June and is hoping to improve on that and make her mark this summer. She is coming into her fourth year of racing. This May sees Manon going to the Isle of Man to take part in a three-day youth race
Ruby Miller, 15, from Llantwit Major, who is the current cyclo-cross national champion, national cyclo-cross series Winner, came third in the National Mountain Bike Series, is Welsh cyclo-cross champion and came fifth in the National Points Race last year was also thrilled at meeting Nicole and Katie. She said: "Both girls gave us some valid and essential advice on training and race tactics and were very encouraging - it was great to meet them and to watch the GB team race afterwards was awesome. I look forward to meeting them again in the future.?
Sarah Crowley, 13 from Newport, Gwent has been cycling now for two years. She has mainly done track events but this year Sarah is taking on both track and road. She trains five days a weeks which is equivalent to 10 hours. At such a young age she is a very focused and dedicated young lady. Sarah trains with Luc Jones, who is the youth sprint national champion and he has been a great help to Sarah?s training and given lots of advice. Last year Sarah got Bronze in the Welsh track championships and is hoping to improve on that this year. Nicole and Katie are Sarah?s idols and she said about meeting them, ?It was a great experience and the advice they gave me concerning nutrition was invaluable."
Hannah said: "It was great meeting Nicole Cooke as she is such an inspiration and a world class rider, and it was just great to see that she is such a nice person." Hannah recently came second overall at the Revolution Series in Manchester.
Nicole and Katie were clearly impressed by the girls. Nicole said: "It was fantastic meeting the girls today - they are all so motivated and determined. It was nice to get the opportunity to encourage and support them."
Sarah, Manon, Nicole, Katie, Ruby, Hannah and Elinor
Nicole, Manon and Sarah
Elinor signs autographs as team look on
Lifeforce Development team warm up with Katie Curtis
Star with car: Nicole turned up at the Maindy track in her new Mazda 3, which was given to her by Victoria Park Mazda, Cardiff
Thank you for reading 20 articles this month* Join now for unlimited access
Enjoy your first month for just £1 / $1 / €1
*Read 5 free articles per month without a subscription
Join now for unlimited access
Try first month for just £1 / $1 / €1