GAZZETTA REVEAL BASSO AND FUENTES LINK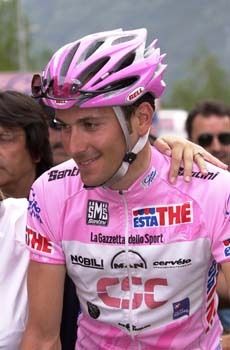 Ivan Basso has always denied links to Spanish doctor Eufemiano Fuentes but Italian sports newspaper La Gazzetta dello Sport has revealed details from the 38-page summary document that nail Basso?s name to the doping scandal.
In a two page special report on Tuesday, the newspaper revealed there are two phone calls and three documents that link the nickname ?Birillo? to Basso and talk about doping products. There are no direct links between Basso and the Spanish doctor but the evidence is clear and Basso?s dog is called ?Birillo?.
On May 13 and 14 Jose Ignacio Labarta, the directeur sportif of the Comunidad Valenciana team indicates Basso as Birillo when speaking to Fuentes about the Giro d?Italia.
Labarta says on May 13: ?Birillo finished with Simoni at 16 seconds. All of yours are doing well.? -that day Basso, Simoni, Gonchar and Rebellin finish the stage at 16 seconds.
Labarta says on May 14: ?Basso and Guti were first and second. You?ve got first and second.? ?Spanish police believe Guti is Jose Enriquez Gutierrez of the Phonak team, the big surprised of the 2006 Giro, who finished second overall behind Basso.
A list of numbers and nicknames identify the 226 bags of blood and plasma stored in two fridges in Madrid.
Number 1 is linked to ?Jan?, that is believed to belong to Jan Ullrich, while number 2 is linked to the name ?Birillo?.
A second document talks about a ?Festival in May? with a list containing the names of Jan Ullrich, Ivan Basso, Marcos Serrano, Michele Scarponi and Jose Enriquez Gutierrez. All of them rode the Giro d?Italia in May.
The third document deals with payments and products. There is no direct link to Basso but there is a note: ?Birillo lieva (take) 2x plasma, 3x HM (Gonadatropine), 10 patches (testosterone patches, codigo conto svizzero (code Swiss account).?
Other accusations to recently emerge from the dossier is a link between Dr Fuentes and Marco Pantani relating to 2003, the Italian rider?s last season as a rider before he died from a cocaine overdose in February 2004.
Pantani was listed in documents as ?PTNI? and apparently received EPO, growth hormones and insulin. Pantani spent most of the spring in Spain in 2003 staying with team mate Daniel Clavero in Madrid. According to Spanish magazine Interviu, Pantani?s training programmes contained indications of when to take the drugs.
After all the scandals there is at least one sign that things are changing within the sport.
The T-Mobile team have ordered world time trial champion Michael Rogers of Australia, Patrick Sinkewitz of Germany and Italy?s Eddy Mazzoleni to stop working with disgraced coach Michele Ferrari.
?I?ll do it because it?s the team that pay me,? Mazzoleni told La Gazzetta.
?But I don?t think I?ve done anything wrong because Ferrari was found not guilty. He?s always in the headlines, while who goes to Cecchini or other coaches are considered saints.?