Glasgow 2014: mixed zone
Quotes from the star riders of day one at the 2014 Commonwealth Games in Glasgow.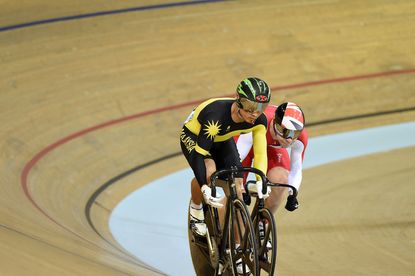 Cycling Weekly talked to the stars of day one of the Commonwealth Games in Glasgow. Here's what they said.
JASON KENNY ON TEAM SPRINT SILVER
"We're really happy, especially with the first round. To get into the final was a massive step forward. Technically they were two very good rides, which we've been struggling to do. Hopefully we can build on that and push for medals at the worlds.
"It takes a bit of time. Kian [Emadi] was new to the team, he joined a team that was getting slower after the Olympics. We've had that lull and it's taken time to get it together again."
ANNA MEARES ON HER THIRD-CONSECUTIVE 500M TT GOLD
"I was trying to ignore it [pre-Games expectation]. It's been a difficult task, but I wanted to come here and have fun. I wanted to go sub 33.5 [seconds], but I wasn't sure how fast this track would be with the shape – long straight, tight bends.
"But I knew the [team pursuit and sprint] boys went fast this morning so I was eager. It was technically efficient."
SOPHIE THORNHILL AND HELEN SCOTT, FIRST-EVER PARA-CYCLING GOLD MEDALLISTS AT THE GAMES
ST: "Every gold medal is special, but to have it on the platform it has here, hopefully we can show off what para-sport can do."
HS: "We qualified first this morning in a PB time. We got some good racing against the Australians, and then the Scots gave us a tough ride tonight. That's the way we like it!"
ST: "You want to qualify first, it stands you in good stead. To be on top for the whole day is great for us. We're another home nation so hopefully they're [the Scottish fans] not too sad about us winning. I'm sure it will take a long time for it to sink in.
SCOTTISH TANDEM PILOT LOUISE HASTON ON SILVER IN THE PARA-SPORT SPRINT
"It's my son's birthday tomorrow. He got to press the buzzer to start the action today, but because he was on camera he started bubbling. Hopefully I made him proud! We need to rest now and recover for the 1km time trial on Sunday. No partying for us! I prefer the Kilo, even though I've not got much experience in it."
JESS VARNISH ON 500m TT BRONZE
"I'm very happy to be on the podium at my first Commonwealth Games. Technically it wasn't the best, I took a bit of gamble going for tri bars in a 500m [TT] because I've not been on them since I was a junior. Every race I do I'm getting further and further away from [London 2012, where she did not win a medal], which is nice. "
Thank you for reading 20 articles this month* Join now for unlimited access
Enjoy your first month for just £1 / $1 / €1
*Read 5 free articles per month without a subscription
Join now for unlimited access
Try first month for just £1 / $1 / €1