Great Britain's juniors win two more World champ medals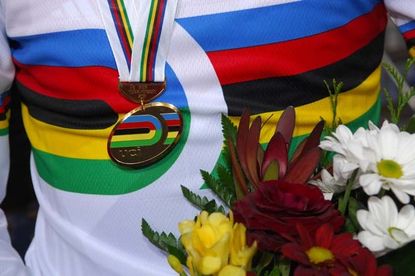 Great Britain's juniors have two more medals in their collection from the track World Championships in Montichiari, Italy. The junior men took silver in the team pursuit while Laura Trott took her second silver in the women's individual pursuit.
On both occasions, the riders in red, white and blue were beaten to gold by their old track rivals, Australia.
The GB quartet of Daniel McLay, Samuel Harrison, Simon Yates and Owain Doull set the fastest time in qualification, riding a 4'09"342. Their time was two-tenths of a second faster than the Australians.
They went faster still in the gold final with a 4'08"402, but so did the Australians who rode an incredible 4'05"209. This put them well ahead of the British quartet and took them to within 0.7 seconds of the world record set by the Russians last year.
"Our lads went out with a national record, just as fast as they can, but the Aussies were quicker," said head coach, Darren Tudor. "They did a 4-05 - we haven't seen times like that with the juniors over the last couple of years."
"I know the lads are disappointed," added Tudor. "But when you look at the times, it is a pretty good ride."
In the women's pursuit, Laura Trott took her second silver medal in as many days, and one week after fourth in the road time trial. Yesterday in the 2km individual pursuit, she placed second in the qualification (2'23"332) and in the final (2'24"379), both times behind Australian Amy Cure.
"Laura went out and smashed the national record, just over a 10th outside the world record - we could not have asked for much more from Laura," said Tudor. "She definitely could not have given any more in the final."
Cure set the world record in qualifications with her time of 2'22"499. Tudor, though, underscored that medals and records are secondary at the junior level.
"We do the junior worlds for experience, for them to learn what's like to ride a major competition and about the process. It is not about the results, but everything around it."
The junior endurance riders will continue racing through Sunday, Trott in the Omnium on Saturday and Sunday and the men in the points race.
RELATED LINKS
Britain's junior track sprinters prepare for battle
Trott takes silver medal at junior world track champs
British juniors to take on the world in Italy
Thank you for reading 20 articles this month* Join now for unlimited access
Enjoy your first month for just £1 / $1 / €1
*Read 5 free articles per month without a subscription
Join now for unlimited access
Try first month for just £1 / $1 / €1