Guderzo Solos To Victory For Italy In Women's Road-Race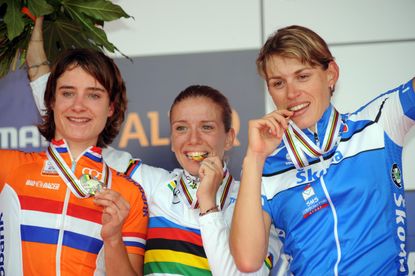 Italy's Tatiana Guderzo soloed to victory in the women's road-race on Saturday, whilst Great Britain's best performer, Emma Pooley, finished fourteenth. Nicole Cooke abandoned mid-way through the race.
Guderzo's victory came after an attack over the tougher of the two climbs, shattering a 17 rider front group.
Second for the second year running was Marianne Vos (Holland), the strongest of a three rider counter-attack. Noemi Cantele, already a silver medallist for Italy in the time trial, took bronze after shadowing Vos and American Kristin Armstrong behind her team-mate for the last 10 kilometres.
Defending World Champion Nicole Cooke abandoned with four laps to go, riding out of the race alongside team-mate Katie Colclough. Cooke had hinted the previous evening that despite working hard on her build-up for the Championships, her condition was perhaps not as good as she would like it, and she eventually opted to quit.
Despite Nikki Harris being involved in a crash early on, with initial reports saying she has a suspected broken collarbone, Great Britain and Germany worked hard early on to toughen up the race.
On a gruelling course the strategy worked well, with the front group down to less than 40 with three laps of the 13.8 kilometre circuit to go and half that number a lap later.
Pooley was constantly close to the front, but it was a move by Guderzo on the second last climb of the race that proved decisive.
Vos worked hard to try and pull back the break, but Guderzo had not taken a bronze medal on the hilly Olympic course last year in Beijing by chance and Cantele did a brilliant job shadowing the Dutchwoman.
Pacing herself steadily on the final climb, Guderzo looked behind several times, but in fact the chase gruop had dropped out of sight. Just a few minutes later she soloed across the line for Italy's first gold medal of the 2009 World Championhips.
Results

World Championships 2009: Women's road race

1. Tatiana Guderzo (Italy) in 3-33-25
2. Marianne Vos (Netherlands) at 19sec
3. Noemi Cantele (Italy)
4. Kristin Armstrong (USA) at same time
5. Diana Ziliute (Lithuania) at 1-07
6. Judith Arndt (Germany)
7. Erinne Willock (Canada)
8. Nicole Brandli (Switzerland)
9. Grace Verbeke (Belgium)
10. Catherine Cheatley (New Zealand) at same time.
Other
14. Emma Pooley (Great Britain)
27. Lizzie Armitstead (Great Britain) at 6-54
DNF Nicole Cooke (Great Britain)
Tatiana Guderzo takes a solo win
Defending world champion Nicole Cooke is dropped from the main group
Road World Championships 2009: Related links
News
Cooke to fight back in women's road race after difficulat season
Millar ready to take command of Worlds team
Kennaugh ready for under-23 road race
Wiggins accepts time trial defeat
Cancellara says TT victory was 'most beautiful ever'
Men's time trial start list
Pooley disappointed with 11th in time trial
Ellingworth explains Cavendish withdrawal from Worlds
Dowsett happy with world-class ride in under-23 TT
Manning praises Dowsett after Worlds TT ride
It's Cavendish or Stannard for final worlds place
Great Britain names world championships team
Millar won't ride worlds time trial despite Vuelta win
Wiggins quits Tour of Britain to focus on worlds TT
Out of sorts Cooke abandons Tour de l'Ardeche
Cavendish keen to ride worlds despite illness
Millar set to lead GB road race team at the Worlds
Brits head home to fight for worlds places
Reports
Cancellara blasts to third Worlds time trial title
Men's time trial as it happened
Armstrong repeats 2006 world champs win for USA
Under-23 Men Time Trial
Women's and under-23 men's time trials as they happened
Photos
Men's time trial gallery by Graham Watson
Women's time trial gallery by Graham Watson
Under-23 men time trial gallery by Graham Watson
Thank you for reading 20 articles this month* Join now for unlimited access
Enjoy your first month for just £1 / $1 / €1
*Read 5 free articles per month without a subscription
Join now for unlimited access
Try first month for just £1 / $1 / €1