Heart problem forces Michael Rogers to miss Tour Down Under
Tinkoff-Saxo's Michael Rogers is forced to scale back his training and stop racing after a UCI heart check found a problem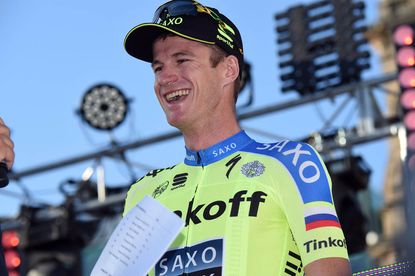 (Image credit: Watson)
A UCI heart check forced Michael Rogers to back off training and stop racing, missing the 2016 Australian national championships and the Tour Down Under in January. Rogers's congenital bicuspid aortic valve, known since 2001, could be worsening says team Tinkoff-Saxo.
The Russian team released a statement yesterday saying that it would need to pull Rogers from the races while further examine are carried out. Rogers is 35 years old, facing his 16th and final season as a professional.
"Michael and team management have taken the decision to withdraw from Tour Down Under and the Australian National championships," said head sport director Steven de Jongh. "Michael will again be a crucial member of our core squad when he returns to his top fitness level."
Rodgers added: "My first stage win and overall victory in the professional ranks was at the 2002 Tour Down Under, so I'm disappointed I will not be present for next year's edition.
"I look forward to being back doing what I adore most – trying to win bike races for myself and my team-mates."
The team referred to an annual health check by cycling's governing body when spotting the problem. The result may have given the team no other choice but to stop the former Sky rider. Cycling Weekly is waiting for clarification from the UCI on its rules.
>>> Mick Rogers to be presented with Olympic bronze medal 11 years after event
Head team doctor, Piet De Moor said that due to Rogers's bicuspid formation a "small amount" of blood was returning back to the left ventricle. The team said that after a routine echo-cardiogram doctors noted a "possible progression" of the condition.
"Michael was diagnosed with a congenital bicuspid aortic valve in 2001," explained De Moor. "The aortic valve plays a crucial role in cardiac output by preventing blood from re-entering the left ventricle from the main artery. Due to Michael's bicuspid formation, the valve is prevented from sealing perfectly. Michael's condition has been well-documented throughout his career and has been under constant observation by several sports cardiologists."
Rogers has to "moderate his training" and skip races until further experts study his case. It is unsure if he will miss more 2016 events. The team has him mark down on the long list to help Alberto Contador this July in the Tour de France.
Thank you for reading 20 articles this month* Join now for unlimited access
Enjoy your first month for just £1 / $1 / €1
*Read 5 free articles per month without a subscription
Join now for unlimited access
Try first month for just £1 / $1 / €1