Here's how you thought Team GB would do at the 2016 Olympic Games
Before the Rio 2016 Olympic Games started we asked Cycling Weekly readers to predict how Great Britain would do. How are those predictions panning out?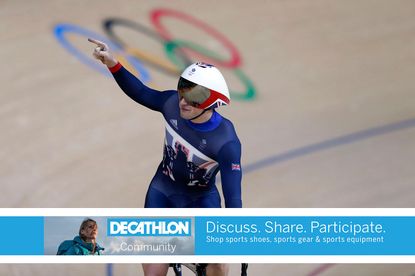 As the Rio 2016 Olympic Games cycling events get into full swing, there has already been some success for Great Britain, with Chris Froome taking bronze in the time trial and gold in the team sprint on the opening day in the velodrome.
However, the lead-up to the 2016 Games did not go smoothly for Team GB, with the furore surrounding the resignation of GB coach Shane Sutton and then the furore surrounding Lizzie Armitstead's missed anti-doping tests.
It's fair to say that GB has dominated the cycling events in the previous two Olympic Games, with eight gold medals claimed in London 2012 alone. But is all that about to change?
Before the Games started, we asked Cycling Weekly readers how they though GB would fare, and we present a selection of the answers here, in association with Decathlon.
How do you think Team GB will continue in the 2016 Olympic Games? Let us know in the comments section below.
>>> Rio 2016 Olympic Games: Latest news, reports and info
Preparation appears to have gone well but on the day, who knows. It will be very tight on the track as GB are the team to beat. On the road, after the success already achieved, it will be close, but I see a win for the team. Good luck to all and be proud.
Malcolm Hunter
Whatever they do will be their best, we just need to cheer them on.
Allyson Issitt
I think the men's pursuit is in with a chance of gold. The women's, I'm not so sure about. I think they can definitely get a medal, but whether it's gold or not is to be seen. They've been a tad bit ropey the past two World Championships. Laura Trott has to be the odds-on favourite for gold in the omnium. Cav, I think could possibly grab a medal. Though he's got tough opposition for gold from Viviani and Gaviria. The sprinters – that's where it gets tricky to predict. This is the first Games where they won't have Hoy and Pendleton. Judging from his World Championship win in the sprint, Jason Kenny has to be considered for a medal. I just hope he can pull it out of the bag like he did in March in London.
Neil Stewart
Hopefully, they'll live up to expectations, but if they're anything like the England football team in Euro 2016 I won't be rushing down to William Hill to place any bets.
Dave Pargeter
I saw the men's pursuit squad train on Sunday, I'm not going to give away their time but they were very fast indeed.
Gregg James
New Zealand will crush the GB team just like the All Blacks crush your rugby team! Except for Wiggo, he'll be fast...
Sam Allan
Liam Phillips for gold.
Mark Larigo
We will win a few but not as many as in the past. GB cycling does not seem as strong: the leadership seems to be behaving like they did 30 years ago. I think not picking people due to their face not fitting is wrong. Bring back Brailsford – proper leadership is needed.
Bryan Ives
Reckon about the same as 2012. Gold after gold after gold.
Jennifer Boyle
Let's have a proper go at predicting gold. GB will top the podium in the men's team pursuit, women's team pursuit, women's omnium, men's time trial and women's road race. The others are all in with a chance of a medal, but gold is not so certain.
Will Givens
I predict that the Team GB cyclists will bag more medals than the whole of Russia will across all of the Olympic sports. That might be a first.
Kevin Smart
Thank you for reading 20 articles this month* Join now for unlimited access
Enjoy your first month for just £1 / $1 / €1
*Read 5 free articles per month without a subscription
Join now for unlimited access
Try first month for just £1 / $1 / €1