Lizzie Armitstead: 'I'll have to accept that people will doubt me forever'
World champion Armitstead says she's struggling to come to terms with the ordeal of the last week's news about her Whereabouts Failures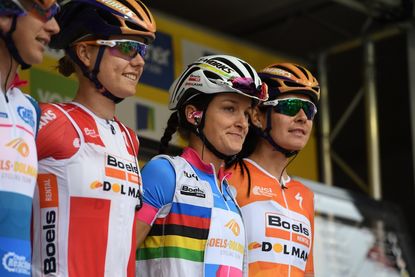 Lizzie Armitstead says she'll have to come to terms with the fact people will always be sceptical about her career after the news about her Whereabouts Failures, but reaffirmed that she had never cheated in any way.
The world champion was talking to the BBC in Rio ahead of this weekend's Olympic road race, where she'll aim to take gold, but said the result won't do anything to change people's opinions and that she remains "devastated" by events since Monday.
>>> Lizzie Armitstead will ride in Rio… but unanswered questions remain
"In this situation I'm never going to win. If I win [the road race], people will say it's because of something else," Armitstead said.
"I'm absolutely devastated because people are going to judge me and my family. I will never cheat in any walk of life."
It was revealed earlier this week that the 27-year-old had been cleared by the Court of Arbitration for Sport (CAS) of a missed out-of-competition test in August last year, having faced a ban by UK Anti-Doping after she tallied-up three Whereabouts Failures in a year.
But despite being cleared by CAS and providing an explanation of traumatic family circumstances for the third failure, Armitstead says she will have to begin to understand that people will always have doubts about her performance.
"I'm not at the point of accepting it yet - but I will have to come to the point of accepting that people will doubt me forever," she said.
"It has been very emotional - it has been been a rollercoaster that I'm glad to get off. I'm very grateful to be here to race.
"People will think I'm a cheat for the rest of my life and that's because of not ticking a box on a form, and I don't mean to make it sound trivial - it's not – it's a fight we all have to take responsibility for and as world champion I should take it higher than anyone else.
"But something happened to me and my family that I couldn't control and that's more important to me than cycling."
Thank you for reading 10 articles this month* Join now for unlimited access
Enjoy your first month for just £1 / $1 / €1
*Read 5 free articles per month without a subscription
Join now for unlimited access
Try first month for just £1 / $1 / €1